I first became aware of Steven Wilson about a decade ago now, primarily through his remixes of classic albums in surround sound. I'd purchased the 2011 40th Anniversary Collector's Edition of Jethro Tull's Aqualung primarily for the digital transfer of the rare 1974 quadraphonic mix, but Wilson's new 5.1 rendition proved to be the highlight of the included Blu-Ray disc.
Recommendations from online music forums would soon point me to his similarly excellent work on the XTC and King Crimson catalogs, but it was also during this time that I'd begun to dip my toe into his own vast musical discography. As many of our readers are no doubt aware, Steven Wilson is active not only as a solo artist but additionally a member of group acts such as Porcupine Tree, Blackfield, Storm Corrosion, No-Man, and various others. One could probably spend months or even years listening solely to music with his name on it.
Individual songs like the catchy title track from 2015's Hand Cannot Erase and the gorgeous "Deform To Form A Star" from 2011's Grace For Drowning caught my ear while rifling through Spotify playlists, but it was 2017's To The Bone–still my favorite of all his solo records–that made me a dyed-in-the-wool convert. The one-two punch of "Nowhere Now" into the epic duet "Pariah" is tough to beat, and the live versions of those songs on 2018's Home Invasion: Live From The Royal Albert Hall are arguably even more breathtaking.
Working backwards through his solo catalog from that point made for a compelling albeit unexpected journey, as it very quickly became apparent to me that Wilson is not a one-trick pony. No doubt by design, all six of his studio albums released between 2008 and 2017 seemed to possess a completely distinct production style, vibe, and "sound world"–to the point where each sometimes sounded like the work of a different artist altogether, but with just enough familiar connective tissue linking them together.
Admittedly, not all of it connected with me–for instance, I much prefer the '80s pop and guitar-oriented To The Bone to his '70s prog-rock homage The Raven Refused To Sing (2013) or the industrial, shoegaze-y Insurgentes (2008)–but you have to respect the man for continuing to challenge both himself and his fanbase.
2021's The Future Bites made for an interesting left turn, with the electric guitar that dominated To The Bone and other past works taking a backseat in favor of synthesizers and other electronic elements–so it should come as no surprise to his fans that The Harmony Codex marks yet another musical evolution in Wilson's storied career.
Right from its opening notes, The Harmony Codex immediately takes on a noticeably darker, more experimental tone than The Future Bites. The heavy electronic influence is still there, though there's quite a bit more guitar work featured here (including some excellent melodic solos in "What Life Brings" and "Rock Bottom") plus awesome live drum performances in "Impossible Tightrope" and "Staircase." The album additionally features a number of noteworthy guest performers, including bassist Guy Pratt (Pink Floyd, Roxy Music) and drummer Pat Mastelotto (King Crimson, XTC).
Perhaps more so than any prior effort, The Harmony Codex makes for a perfect encapsulation of Steven Wilson as a solo artist. All the different sides of his songwriting are present here: everything from the jazz-fusion stylings of Raven ("Impossible Tightrope") to Tangerine Dream-esque ambient soundscapes ("The Harmony Codex") and the electronic 'coldness' of songs like "King Ghost" or "Man Of The People" from The Future Bites ("Economies Of Scale") pops up in some form, yet somehow it all sounds fresh and not reminiscent of past offerings.
Whereas prior works seemed to take shape around a centralized theme or style (such as the aforementioned '70s influence on Raven), The Harmony Codex is far more eclectic–almost to the point where each of the ten songs has been produced in a completely unique way. Though Wilson's catalog is known for its variety, I can't recall another example of such diverse musical styles co-existing in a coherent way within a single record.
The cover art cleverly expresses this idea in visual form, with the tetris-like staircase (inspired by M.C. Escher's Penrose stairs, an image frequently referenced throughout the short story that inspired the album as well as the lyrics) containing ten uniquely colored blocks.
The Harmony Codex is available in a number of physical and digital formats, including a standalone Blu-Ray disc with high-resolution 5.1 surround sound and Dolby Atmos mixes as well as a 2CD/Blu-Ray deluxe edition–which additionally contains bonus instrumental mixes of the album in stereo, 5.1 & Atmos. The Atmos mix is also available to stream on the Apple Music, Tidal, and Amazon Music streaming platforms.
The Dolby Atmos mix of The Harmony Codex is such a powerful, expansive listening experience that I can only surmise it was composed and produced with spatial audio in mind. The immersive mixes are so amazing that I haven't even bothered to listen to the dedicated stereo version, though it'll be interesting to see how he was able to cram all this information into a traditional two-channel stereo soundstage.
Having done The Future Bites and To The Bone, I felt like I'd kind of gone down the pop rabbit hole as far as I wanted to. With this project, I'm moving back towards something a little bit more experimental while keeping the musical vocabulary of The Future Bites. It cohered really beautifully in terms of the story, the style, and the kind of lyrical content.

Steven Wilson, July 2022
The seductive opener "Inclination" kicks off with a room-filling soundscape reminiscent of Nils Petter Molvær's Stitches album (and surely enough, Molvær himself performs on this track), while Wilson's soulful vocal makes its debut at around the two-minute mark. He weaves in-and-out of falsetto ("you stole it from somebody else…") as backing vocals emerge from the side surrounds and keys circle overhead.
Wilson's lead vocals are interestingly arrayed across all three front speakers for the 5.1 surround & Dolby Atmos mixes, rather than residing solely in the center channel. Frankly, I wish he'd adopt this technique more often: isolating vocals just in the center speaker often creates a striking sense of 'loneliness' and clarity–which can be incredibly effective in a sparser production–but it can just as easily create the impression that the vocal is too 'detached' and inhabits a different space than the rest of the instruments.
The almost folk-oriented "What Life Brings"–one of my favorites on the album–offers a compelling tapestry of live drums, acoustic guitars, and wistful layered vocals, culminating in the huge multi-dimensional ending ("love it all, hold it your hands") with different voices cascading off each other like flowers budding off a single branch.
"Economies Of Scale" marks a natural evolution from prior songs like "King Ghost" and "Man Of The People," again downplaying live instrumentation in favor of carefully-arranged programmed percussion and synthesizers. The layered vocals are again a highlight, with the "economy, economy" chorus alternating between the heights and center speaker to great effect.
"Impossible Tightrope" is one of three longer-form epics on the album, marking a return to the fusion-y improvised jamming showcased on his Raven and Hand Cannot Erase albums (listen for some scorching solos from veteran Wilson sidemen like Theo Travis and Adam Holzman). Strings fade in from the height speakers, before the massive rhythm section fills up all speakers at ear level and synthesizers wildly swirl all around the listening space.
You needn't look too far to find me waxing poetic about Steven Wilson's mixing prowess, but–even in a discography ripe with great-sounding records–this has to be a career high for him in terms of sonic excellence. The sound quality is flawless, from the crisp highs of the acoustic guitars in "What Life Brings" and "Rock Bottom" all the way to the deep lows found in "Beautiful Scarecrow" and "Staircase."
"Rock Bottom"–featuring and written by Wilson's frequent duet partner, Israeli singer/songwriter Ninet Tayeb–is an interestingly darker bookend to "Pariah," their last collaboration from 2017's To The Bone. The former's hopeful message of "nothing really dies" has been replaced by a more dire "don't lose hope, stay alive," perhaps more fitting for the times we live in.
The epic orchestrated arrangement (inspired by composer John Barry's work on the James Bond film series) unfolds with all the drama and grandiosity one might expect from a Bond theme, to the point where you can almost see the stylized credits flying by when you close your eyes. Ninet's scream morphing into Niko Tsonev's Pink Floyd-esque guitar solo will surely be remembered as one of the more-iconic moments on this record, and perhaps in all of Wilson's discography.
After an ominous electronic intro, "Beautiful Scarecrow" unexpectedly transports the listener in the middle of a ferocious drum carnival. Theo Travis' duduk (a Middle-Eastern woodwind instrument) is deliberately set back in the mix, as if he's lost in the chaos of an overcrowded street.
The proceedings then slow down for the "The Harmony Codex," a nearly ten-minute slow-burn ambience piece featuring Moody Blues-style spoken word passages. The glitchy piano intro to "Time Is Running Out" gives way to an introspective, somewhat-sardonic lyric featuring one of my favorite lines in the album: "it's just rock and roll with no quality control."
"Actual Brutal Facts" will no doubt prove controversial among fans due to its incorporation of hip-hop elements–Wilson's pitched-down, malevolent vocal performance tows the line between spoken-word and rap–but I felt it to be another great entry in the vein of darker, sinister songs from past works like "Index" from 2011's Grace For Drowning.
My seventh album The Harmony Codex is a real trip, a beautiful and experimental 65 minute labyrinth of a record, with almost every one of its 10 tracks taking a different musical approach. I really hope you will all get to hear the album as intended - a continuous musical journey, or a piece of 'cinema for the ears'. I couldn't be prouder of this album and I think you are going to enjoy it too!"

Steven Wilson, September 2023
The Harmony Codex concludes with "Staircase," my personal favorite track on the album. It's a propulsive blend of live & programmed drums, analog synths, electric guitar, and–perhaps coolest of all–an awesome Chapman Stick solo from veteran collaboration Nick Beggs. Each speaker gets its due, with electric rhythm guitar in the sides, backing vocals in the rears, keys moving around overhead, and the rhythm section seemingly everywhere at once. The drum sound on this song simply has to be heard to be believed. 
This has always been true of Steven Wilson's music to some degree, but The Harmony Codex is truly 'cinema for the ears.' It's an elaborate musical journey that demands the listener's full attention, and one that will hopefully encourage a return to an old-school form of listening. A six or twelve-channel surround sound system obviously isn't required to experience the album (though I do recommend listening that way!), but a portable speaker sitting in the corner of your living room or one earbud in on the train ride to work simply won't cut it for this one.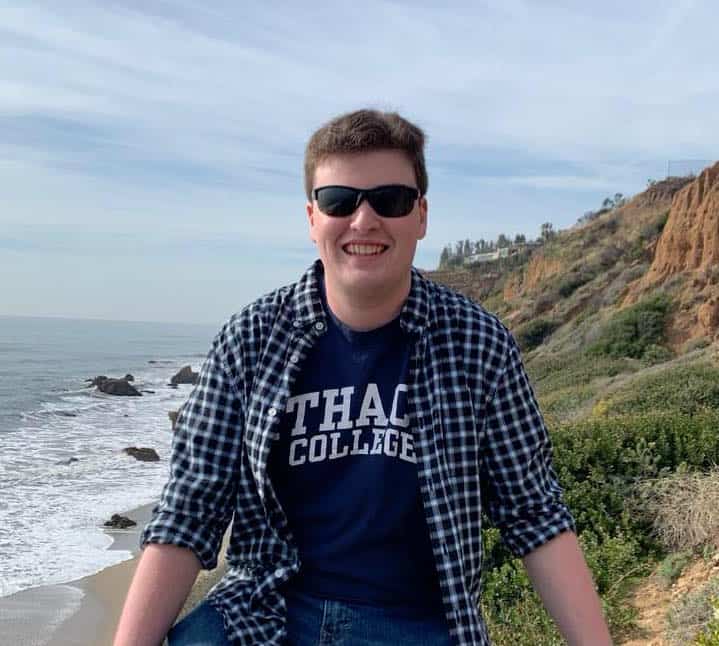 About the Author
Jonathan is an audio engineering enthusiast from New York with a passion for immersive audio, having amassed a formidable collection of multichannel optical discs and quadraphonic vinyl. He earned his undergraduate degree in Television-Radio from Ithaca College and Master's degree in Audio Technology from American University.