By 1969, The Moody Blues had transformed from a traditional rhythm and blues-based rock band into progressive rock pioneers. Their sound made a dramatic turn with 1967's Days Of Future Passed, now incorporating orchestral elements and a new instrument, the mellotron, to great effect. The end result was a huge success, especially the landmark single "Nights In White Satin".
To Our Children's Children's Children was the fourth album to feature then-new recruits Justin Hayward and John Lodge, who had replaced the departing Denny Laine and Clint Wark. It was also the release to come out on the band's own label Threshold Records, and – like the preceding album, 1969's On The Threshold Of A Dream – there was no hit single.
"Watching And Waiting" failed to chart on either side of the Atlantic, though "Gypsy (Of A Strange And Distant Time)", considerable airplay at the time. This ultimately did not prevent the album from being a huge success, with it reaching #2 on the U.K. charts and #14 in the United States.
The album, which follows a loose concept about space travel, opens with the Graeme Edge-penned "Higher And Higher". It begins with the sound of a spaceship taking off, a stark and original manner in which to begin the proceedings.
This is followed by Lodge's "Eyes Of A Child," divided into two portions with Ray Thomas' "Floating" sandwiched in-between. The songs fit together like a perfect jigsaw puzzle and continue the concept. Hayward then pops up with the all too short "I Never Thought I Would Live To Be A Hundred," followed by Edge's instrumental "Beyond." Side one then concludes with "Out And In," written by Lodge and Mike Pinder.
Side two opens with the fantastic "Gypsy (Of A Strange And Distant Time)" from Hayward, and why this was not issued as a single is anyone's guess. Thomas returns with the beautiful "Eternity Road," then segueing into the fan-favorite "Candle Of Life." The album finally closes with the Hayward and Thomas collaboration "Watching And Waiting".
Given the band's innovative idea of dividing their compositions into distinct parts, as well as bringing back short themes and motifs in an almost-classical manner, one could certainly argue that To Our Children's Children's Children is perhaps their most experimental album and thus highly deserving of an elaborate 50th anniversary reissue.
Perhaps of most interest to listeners and audiophiles are Stephen W Tayler's new mixes of the album in stereo & 5.1 surround sound. Tayler has spearheaded 5.1 surround mixes of classics by the likes of Be-Bop Deluxe, Van Der Graaf Generator, Renaissance, and Barclay James Harvest in recent years. The new stereo mix, featured both on CD and in high-resolution on Blu-Ray, sounds much sharper and clearer than the original version.
With the 5.1 surround mix, Tayler has taken a great deal of care to maintain the original sound while also using the technology to separate individual instruments and vocals. He is not about creating tricks or sound collages, but enhancing the sense of space. The guitars are featured from behind at times, while other passages have the majority of the instrumentation positioned upfront with just ambient sound coming out the rear speakers.
Conspicuously absent from this deluxe edition is the original quadraphonic mix of the album, mixed by Derek Varnals & Tony Clarke and originally released on specialized four-channel 8-track and reel-to-reel tape formats. The quad mix has been re-released twice in digital form, first on Super Audio CD in 2006 (though it was perhaps unnecessarily 'manipulated to 5.1' by Paschal Byrne & Mark Powell for this edition) and then again on DVD in the 2013 Timeless Flight box set.
For the Blu-Ray, Tayler has also remixed the band's live performance at the Royal Albert Hall in stereo & 5.1 surround. It does not benefit as much from the surround sound treatment as the studio album, but placing the ambience and crowd sound in the rear speakers does effectively recreate the mood of attending a live show. "Nights In White Satin" sounds particularly good in this format.
The box set also comes with an informative and well-put-together booklet, which provides a great deal of information about the making of the album. Overall, this new set is a must-have for hardcore Moody Blues and immersive music fans.
Support IAA by pre-ordering the To Our Children's Children's Children 50th Anniversary Deluxe Edition via this link!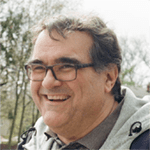 About the Author
Aaron Badgley developed a love of music at a very young age, growing up in a house with the radio or records being played all the time. He went on to a career in radio, producing many shows, as well as being the sound man for numerous concerts in the 1980s. He also had a syndicated radio show, Beatles Universe, which played throughout North America for five years. He has written for numerous publications and continues to enjoy music whenever he can.