Stephen W Tayler's decades-long career in the music business began in the mid-1970s at London's famous Trident Studios, and mostly involves studio work for pop/rock artists. Recently, he's remixed multiple albums by progressive rock bands Be-Bop Deluxe and Van Der Graaf Generator into stereo & 5.1 surround sound.
Tayler is also a musician in his own right, having released the instrumental albums Ostinato (2015) and Da Capo (2021). Da Capo is currently available as a CD/DVD set with 5.1 surround sound from Burning Shed.
We had a chance to chat with Stephen about his career path, his thoughts on remixing classic albums in surround sound, as well as future projects for fans to look forward to.

How did you first get into engineering and producing music? What do you enjoy about it most?
I started my life in the world of music and sound as a chorister in New College Choir, Oxford at the age of eight. This led me through an education in music, but also introduced me to the concept of recordings and broadcasts very early on.
I eventually studied music at the Royal College of Music in London, playing in orchestras and ensembles, while also taking part in experimental music and playing in bands. Recording had become a fascinating hobby during my teens.
After college finished, I decided to move into the world of recording by joining Trident Studios in 1974 and was instantly hooked. I went through the usual path of being a tea boy, then a tape operator, and not long after becoming one of the studio's house engineers.
Independent and freelance recording engineers were extremely rare at that time in the 70's, and one's training was quite specific to the particular in-house style of the studio. I was lucky to immediately be involved with some of the most interesting and eclectic artists of that period. I loved being a part of the creative process and the amazing feeling of completing such incredible records. Every project felt like a journey, with very intense long sessions day-after-day.
After I left Trident, I became freelance and developed close relationships with artists, bands and producers, especially Rupert Hine.We became a production team responsible for hundreds of records. My role gradually developed from recording/mixing engineer to co-producer and sometimes even producer.
I still get a real buzz from the creative side of mixing and the satisfaction of completing projects. I find that now my world has expanded into new fields such as multichannel mixing, art works, and creation of music or visuals, that I still am constantly enthusiastic and excited. I enjoy creative and technical challenges, and with modern technology the possibilities are endless!

When were you first introduced to the idea of mixing music in surround sound?
In the early 2000's, I became involved in various live shows being edited and mixed for video release on VHS and DVD. I acquired a Genelec monitor system for my own use, and also worked in a couple of private studios that were equipped with 5.1 systems. I also mixed one new studio album in Italy that was released on DualDisc, a failed format with Red Book CD on one side of the disc and DVD on the other.
I also began to do some experimental surround remixes, but there didn't appear to be a market for surround music at that time. I couldn't seem to get any artists or labels interested in the idea. The home theater market was focused on the film world, with the crossover into live concert videos beginning to attract some attention.
It was after I set up our private studio at Real World Studios in 2013 that things started to look up. I created an up-mix of the project One World One Voice for a screening for the 25th Anniversary at Real World in 2015, and around the same time I was introduced to Mark Powell from Esoteric Recordings to remaster a compilation of Rupert Hine's solo works.
That led to Esoteric releasing my solo album Ostinato (2015), and then Mark asked me if I would be interested in mixing some classic albums in surround for special editions. I said I was totally into the idea, so we started discussing the Be-Bop Deluxe back catalog. That is where this particular part of my life began.
Immersive Music Fans Have Lauded Van Der Graaf Generator's The Charisma Years Box Set As One Of The Best Deluxe 5.1 Releases Of 2021. How Did You Become Involved In This Project? Was The Band Involved In The Remixing Process?
Again, this came my way via Mark Powell, who was organizing and curating the project for Universal. I think my connection to Trident Studios may have contributed to the suggestion of me being involved, as well as my understanding of how many of those recordings were created and assembled during those times.
I was incredibly excited about this. The first albums were made when I was a student – before I started in the music business – and I was a fan! It was completely groundbreaking at the time. I
Was actually in a band that had an organist and electric clarinetist. (It was great fun, but sadly didn't last.)
I started the VDGG mixes just as the pandemic lockdown began. I tend to work remotely and in isolation anyway, so nothing had really changed in that part of the process.
Once my first draft of all four albums was complete, the stereo mixes were sent out to Peter . Their responses were incredibly positive, and they sent a collection of notes for adjustments. This list was minimal, but really spot on. A couple of revisions later, everyone was happy.
Hugh was then sent the surround versions, as he was the only one who had a system. I still had never met them during the entire project. Later on, Guy chose to come to the studio to listen to the albums in surround. We just sat and listened to all four in a row. It was an incredibly emotional experience, and such a delight to meet him!
I finally met them all recently when they happened to come to rehearse at Real World, just before their Scandinavian tour.
There tends to be a lot of online debate over remixing classic albums, as some hardcore fans feel there's an element of "revisionist history" to the concept. However, one could also argue that an entirely new mix - especially in a multichannel format like 5.1 - is intrinsically a new take on the material. In order to please these fans, did you feel an obligation to closely replicate the instrument balances and effects used on the original mixes?
This is always such a dilemma! It does depend on what the motive is for recreating these albums. It is hard to satisfy everyone.
The word "remix" itself is confusing. Originally, it meant the process of the actual mixing of a recording that had been made to multiple channels. Then when the term "mixing" became more common for the process, "remixing" meant the act of doing the mix again – usually to improve or adjust the balances.
When the trend for 12-inch or extended mixes happened in the mid-70's, the term started to be used for the act of completely revising the arrangement and instrumentation, along with new balances and effects. Frequently, only using a single element such as a vocal would be taken from the original. I think that is why it is sometimes better to refer to these as "new mixes" rather than remixes.
I think the main motive for mixing these classic albums again is to create multichannel versions, especially as most of them never even had a quadraphonic mix at the time. My particular approach is to respect and be influenced by the original mix and arrangement, especially with imaginative productions such as H To He, Who Am The Only One (1970) and Pawn Hearts (1971).
The new stereo mixes are created in tandem with the surround mixes, with some small differences. The new stereo mix is never intended to try to improve on the original mix, just to be an alternative. The original is always still there, usually remastered!
A radical remix is also a possibility, but that wouldn't satisfy everyone either. It is hard enough when you are close to the original, but you are criticized for making a new choice over the level or tone of a particular part. Also, the budgets are not limitless!

I imagine there's a lot of detective work involved in trying to piece these albums back together from session tapes, locate all the correct takes, etc. Did you face any such challenges with the Be-Bop Deluxe or Van Der Graaf Generator 5.1 remixes?
The main challenge is just trying to identify everything. Some albums come without any track sheets/listings, and in the days of 8, 16, and even 24 channels, some tracks contained multiple parts, such as extra vocals, added percussion, synths, solos, sound effects etc!
Actually, the track sheets were pretty accurate for these four VDGG albums. The main complication with H To He and Pawn Hearts was that the longer pieces – such as "The Emperor In His War Room" and "A Plague Of Lighthouse Keepers" – were created in short segments that were recorded and overdubbed on separate tapes. My goal was to assemble all these multiple takes and tracks in one digital session to create good continuity.
The transfers were very well made, and came with scanned information such as tape box labels and tracks sheets where possible. Mark Powell was excellent about providing me with information about where the various takes came from.
I did occasionally have to identify the right vocal take, but there wasn't much room for extra or alternative takes in the days of tracking on 8 or 16-channel tape. It gets much more challenging on the later 24, 32 or 48- track projects, where many decisions were left until the mix stage!
Some of the Be-Bop Deluxe albums didn't have any track sheets, so a lot of close listening is required at the initial stages if one wants to stick with the takes and arrangements used on the originals.

You recently stated that 5.1 mixes "are not meant to be analyzed, only experienced." That being said, we'd love for you to elaborate a bit on how you approach surround sound mixing. Can you talk about your decision-making process for utilizing the extra channels? Where do you draw the line between 'immersive' and 'gimmicky'?
A lot of this depends on the musical style and genre. I have said from very early in my career, I am in the business of making great records, not great recordings. I get that some people are interested in looking behind-the-scenes and revealing the individual components. I'm a bit more interested in retaining a certain amount of mystery and magic.
To me, there is a massive difference in approach depending on the genre. I think with ambient, electronica, or synth-pop, you can do almost anything you want to create either a fun or atmospheric experience.
With a more traditional music setup I still think there is a frontal stage format, with the lead elements focussed in front of you and supporting elements around you. It is still a mix – regardless of the format being mono, stereo or multichannel – and the magic is in the focusing, balancing and blending of each element.
I think quad originally was trying to introduce the idea that it didn't matter which direction you were facing to appreciate the experience. I often wander around when I am checking my mixes, just to make sure that the spirit is still present wherever you are.
As for decision-making: there are no set rules, but some things just work – a bit like in stereo, where double-tracked instrumentation just sounds and feels good when you hard-pan it left and right. Also, I'm not a fan of completely separating a lead vocal into the center channel. I tend to use it for central focus, rather than isolation.

Tell us about your new solo album, "Da Capo." How is developing and producing your own music different from working with another artist? Is it more or less challenging?
Da Capo was conceived as a complete audio visual work from the very outset. The whole piece was created in surround sound and visuals simultaneously, and was planned as a live experience first and foremost.
This is coming straight from my imagination, rather than as a reaction to someone else's work. It is based on abstract memories, feelings, and emotions. The nine sections all blend together and are intended to be experienced as a single journey. The visuals represent more of an atmospheric light show that shares the dynamics of the music and soundscapes.
After the premiere live solo event in the Big Room at Real World, featuring full surround and projections, I was hoping to further create a live show that could be experienced in particular cinemas to take advantage of the sound system and screens, but the pandemic, and the potential costs rather prevented that from happening at that particular time.
Marillion guitarist Steve Rothery recently revealed that you've remixed Holidays In Eden (1991) in stereo & 5.1 for a yet-to-be-announced deluxe reissue. This album was originally produced by Christoper Neil (A-Ha, Sheena Easton, etc) and is often thought of as an outlier in their catalog, with a more radio-friendly pop sound. Can you talk a bit about how you've approached the remix?
It was fascinating to be invited to readdress this album. I was not familiar with the music itself, moreso with the production and engineering techniques of the time period in which it was originally released. There was a particular type of sound from around 1989-91 that seems to have not aged well, particularly the roomy 'gated' drums and the use of SSL consoles.
When it came to mixing Holidays In Eden, I wanted to bring more groove, color, and weight to the rhythm section with a bit less emphasis on the off beat snare for a bit more timeless sound.
I wanted to keep the character of the original mix, but give it a bit more analogue warmth, punch and emotion–and of course create the surround experience–along with awesome great bonus material! Such lovely chaps to be involved with, a complete pleasure.
Immersive music appears to be more popular than ever today, with Dolby's new Atmos format proliferating on both physical Blu-Ray discs and streaming platforms such as Apple Music and Tidal. Do you plan to upgrade your studio for Atmos monitoring in the near-future?
I'm a bit concerned about the motive for a new format such as this. I don't want to just jump on the bandwagon without a lot of careful thought and integrity. I would need to upgrade my studio hardware and all my software, and put quite a lot of time aside to learn the new techniques and how I can bring all of that to what I hear. That is quite a challenge, as I have so many projects lined up right now!
I'm also a little concerned about how needing to address more formats will somehow dominate and dilute the focus I currently have. I wouldn't want to just create a token version using Atmos, I would want to find a genuine reason to incorporate it.
I'm hoping there isn't too much pressure at this time, and so I don't want to just be seen as just going along with it like so many others. I am by no means a luddite, and I have never been one to conform and stick to the rules anyway!
With music and sound, it's similar to the world of film: the art itself, rather than the presentation or format, still comes first. It is all about what is most appropriate for particular projects.
We are so lucky to have so many options and opportunities!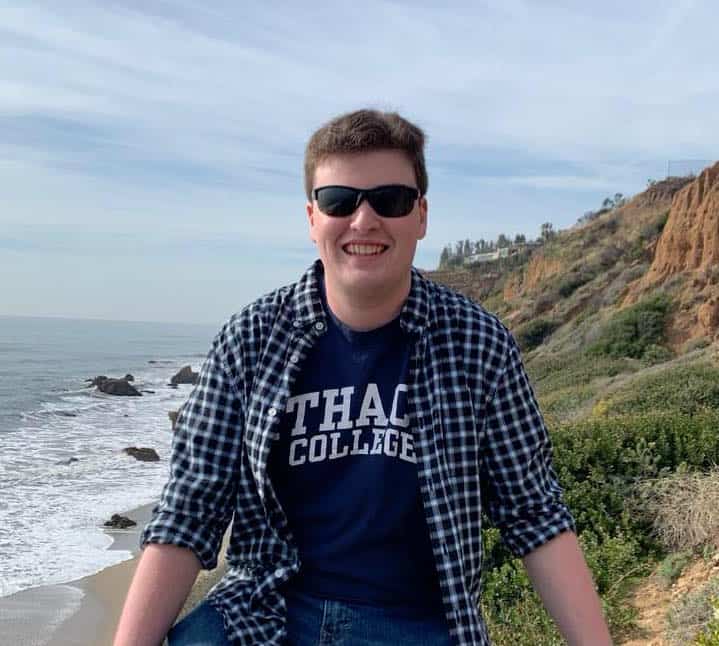 About the Author
Jonathan is an audio engineering enthusiast from New York with a passion for immersive audio, having amassed a formidable collection of multichannel optical discs and quadraphonic vinyl. He earned his undergraduate degree in Television-Radio from Ithaca College and is currently enrolled in a Master's Program in Audio Technology.