I first discovered Michael Marquart/A Bad Think's music in November 2019, when it was announced that his then-latest album The Savior (2019) would be issued on a limited-run Blu-ray disc with stereo & 5.1 surround sound mixes by legendary audio engineer Bob Clearmountain.
Revered in the immersive music community for his incredible 5.1 remixes of classics such as Roxy Music's Avalon, Bob Marley & The Wailers' Legend, and The Band's self-titled brown album, Clearmountain's involvement was enough to pique my interest.
The follow-up album, Lifelike (2021), featured not one but two distinct immersive mixes: a 5.1 mix created by Clearmountain alongside the stereo version, plus a Dolby Atmos mix by Dave Way and Steve Genewick. The two surround mixes highlight the densely arranged album in different ways, adding to the replay value for audiophiles.
Just over a year after the release of X (which again featured a Dolby Atmos mix, this time by Clearmountain with no dedicated 5.1 option), Marquart has impressively managed to write, record & produce an entirely new 12-track album. To the delight of audiophiles and immersive music fans, Clearmountain is involved once again.
Much like the prior three releases, Short St. covers a lot of ground genre-wise with elements of country/western, more mainstream 'feel-good' pop/rock, progressive rock, and various other styles in between. Though Marquart's 'storyteller'-style lyrics (this time focusing on his childhood in 1960s Wisconsin) are always engaging, the album is at its most interesting for me when the progressive elements – like the off-kilter synth sounds in "Sophie's Choice" – are brought to the fore.
Though the Atmos mix will soon become available on Apple Music and Tidal, the Dolby TrueHD/Atmos MKV files from IAA's shop provide an infinitely more-rewarding experience for audiophiles. Some of the more subtle time-based effects in the mix, such as the drum kit delays in the height channels, seem to test the limits of the 768 kbps Dolby Digital Plus/JOC codec. With lossless Dolby TrueHD, the detail and clarity from the ADM master file is much better preserved.
As with most of Bob Clearmountain's 5.1 and Dolby Atmos mixes of studio material, the separation of the instruments is extreme. The center channel once again acts as the focal point of the surround presentation, featuring not only dry lead vocals but also bass guitar, kick drum, lead guitar, and percussion.
Sound quality is generally excellent as usual, the acoustic guitars in particular really stand out. Vocals and drums are clear as well, and treated with Clearmountain's trademark reverberation & delays to achieve that dreamy, almost-live sound.
If you've got a 7.1.4 system, expect to hear distinct instrumentation hard panned into the side and rear surround channels. For the choruses of most songs, Marquart's double-tracked vocals appear hard panned in the side channels while the lead stays in the center – it sounds like there's three perfectly placed copies of him harmonizing all around you.
"Passion Play" opens with the muscular bass line in the center speaker, underpinning Marquart's lead vocal while acoustic guitars percolate from the sides and falsetto vocals pop up in the rear heights. Synths then fade in from the rear heights for "Evening Fog," before the massive drum sounds kicks in and acoustic guitars & backing vocals pop up again from the sides.
"Fall In Love" – a previously-unheard outtake from the Lifelike sessions – is fully-realized here and sounds appropriately powerful in the immersive presentation. "Danny Boy" is another highlight, with strings filling up the rear surrounds while banjo(?) pops up in the right side surround.
"Fuel To Flame" interestingly features old-timey horn & string sounds doubling the guitar lines. The orchestra fades in from behind for "You Better Not Be Late," providing an interesting counterpoint to Marquart and his acoustic guitar in the center channel.
The emotionally-charged "Hammer & The Plow" again features gorgeous strings from behind and acoustic guitars beside, while Marquart's emotive vocals and plucked acoustic remain arrayed across the front soundstage. The album then closes with the more hopeful "Brand New Day," again showcasing Marquart's unique 'storyteller'-style singer/songwriter style.
Though Clearmountain typically employs the four height speakers for 'you-are-there' ambiences and delays, isolated ancillary elements such as the backing vocals in "Fall In Love" or synths at the beginning of "Danny Boy" occasionally appear up there as well. Needless to say, this is a release that audiophiles and immersive music fans won't want to miss.
What Do Fans Have To Say About Short St.?
As may be expected of Bob Clearmountain, the Dolby Atmos mix is impeccable: vocals centered; guitars surrounding and strings lifting you. All recorded perfectly - the detail in the many acoustic guitars outstanding.

Stuart F.
As always, Michael's vocals are clear, strong, and precise. The layered instruments were particularly captivating. It took multiple tries to pick out the various instruments used to compile the track - and I'm certain I wasn't able to identify them all. In many ways, this track ("Hammer and the Plow") reminded me of the soundscapes of my two favorite A Bad Think albums: X and The Savior. I'm eager to hear the entire release when it's available, particularly in the ATMOS format.

Peter A.
I wasn't previously familiar with Michael Marquart's music, but I liked this song and the at times slightly British tone of his voice (?). Oddly, I was reminded of the Incredible String Band, but that might be a crazy thought. Both the stereo and MKV Atmos versions sounded quite good, but the Atmos version added a nice full string accompaniment coming out of my side channel speakers.

Richard N.
Purchase Short St. in the IAA Shop!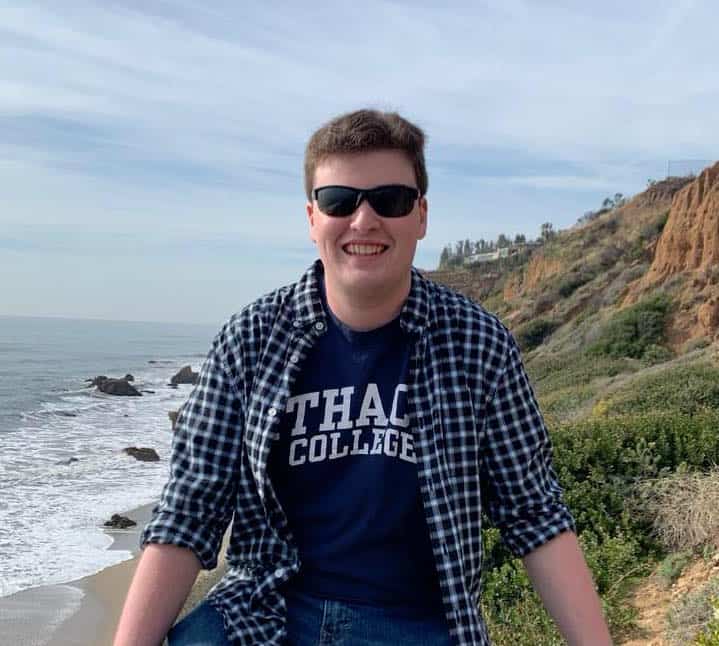 About the Author
Jonathan is an audio engineering enthusiast from New York with a passion for immersive audio, having amassed a formidable collection of multichannel optical discs and quadraphonic vinyl. He earned his undergraduate degree in Television-Radio from Ithaca College and is currently enrolled in a Master's Program in Audio Technology.