Ryan Ulyate has been recording, mixing and producing music professionally since 1978. In 2005, he began a decade-long collaboration with Tom Petty that included mix and production credits on the Mojo (2010) and Hypnotic Eye (2014) studio albums.
He's also a big proponent of immersive and high-resolution audio, having created 5.1 mixes of the aforementioned two albums as well as Damn The Torpedoes (1979) for the now out-of-print High Fidelity Pure Audio Blu-Ray editions. In 2020, he upgraded his Topanga-based studio for Dolby Atmos monitoring and has since mixed Petty's Wildflowers (1994), Angel Dream (1996), and Greatest Hits (1993) records in the new format.
Ulyate's latest project is Act 3, his debut album as a solo artist. Inspired by the bands he listened to while growing up, as well as artists he's worked with, it's a tapestry of classic British and California rock. As of this writing, the album is exclusively available as a high-resolution immersive download through IAA's online shop. The Dolby Atmos mix was created by Ulyate himself and mastered by Michael Romanowski at Coast Mastering.
Based on his love for conceptual works like The Beatles' Sgt Pepper's Lonely Hearts Club Band (1967) and Pink Floyd's The Dark Side of the Moon (1973) and produced especially for Dolby Atmos, Act 3 is designed to take the listener on a 45-minute immersive audio journey while also making some observations about the world we're living in from the perspective of someone who grew up in the "Dreamland" of California. 
As anyone familiar with his work would no doubt guess, the Atmos mix is impeccable. This is a full-on 'center of the band' experience, with the additional speakers (side, rear, and height) used not only for 'you-are there' ambience but also key musical elements like backing vocals, keyboards, and guitar solos.
"Dreamland" kicks the proceedings off in style with Ulyate's layered vocals surrounding the listener, before blasting off into full immersion with the drums filling up the entire space at ear level, acoustic rhythm guitars upfront, an electric rhythm part in the side surrounds, and lead guitar fills popping out of the front heights. Lead vocals are loudest in the center speaker, but some additional dry signal spills over a bit into the front and side channels for a more cohesive experience.
Moving into "Game Of Hope," the ticking clock sound travels overhead from the rear to front heights before the full band's entrance activates all speakers. The drums sound as if they're being played in the listening space, with reflections hitting off the rear and height speakers.
"This Is How It Ends" is definitely a highlight, opening with a King Crimson-like mellotron and the center speaker and closing with the ferocious outro guitar solo swirling all around the top speakers while the drum kit crashes all around you.
The Pink Floyd influence definitely shows in "Home," in which the melody and atmosphere somewhat recall "Us and Them." Ulyate's vocal delivery even seems to evoke Roger Waters' style to some degree throughout this song. Harmony vocals fill up the room from all corners, while a David Gilmour-esque guitar solo floats in from above.
"How Many More" again uses the height speakers quite aggressively for electric guitar parts, while the rhythm section, acoustics, and vocals are placed in distinct locations all around the listener's head with pinpoint accuracy.
Thunder and rain sound effects fill up the top speakers to great effect in "After The Fall," immediately making me think of The Doors' "Riders On The Storm." Ulyate's vocal echoes gracefully float upwards, while piano appears from the rear surrounds and harmonies pop out of the sides.
"A.I." is especially prescient in this day and age, whereas the catchy "Shiny New Conspiracy" showcases Ulyate's songwriting wit and arranging talent. The big vocal delays on "karma's a bitch…" again bounce all around the soundscape to fun effect.
Sparkling acoustic guitars burst from the front heights in "Play On," with backing vocals emerging from the side & rear surrounds. The lead vocals and overall production throughout this track remind me a bit of Jeff Lynne, which is probably no coincidence given Ulyate's past association with him.
My personal favorite track on the album would have to be the sing-along closer, "Drink Up." The lyrics are beautifully written, with Ryan having described the song to me as "[his] way to honor a life well lived." Once again, acoustic guitars and harmony vocals surround the listener while the Brian May-esque harmonized electric parts rain down from above.
With Act 3, Ryan Ulyate has undoubtedly proven that his talent isn't just limited to the mixing board. The songs are catchy and accessible, with great musicianship and a powerful immersive experience that rivals the best material out there (from acclaimed mixers like Steven Wilson, Bruce Soord, Bob Clearmountain, etc). If you've got a 7.1.4 setup, I'd definitely consider it demo material.
Purchase Act 3 (Immersive Edition) in the IAA Shop!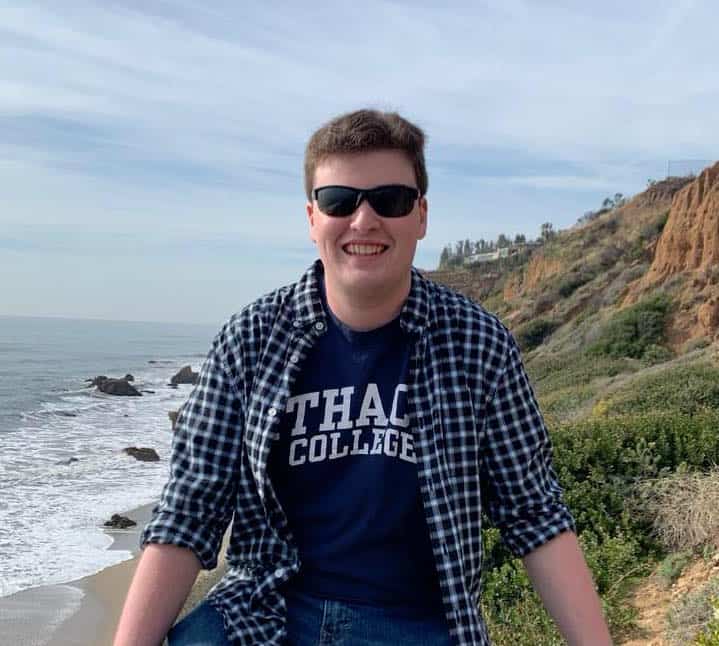 About the Author
Jonathan is an audio engineering enthusiast from New York with a passion for immersive audio, having amassed a formidable collection of multichannel optical discs and quadraphonic vinyl. He earned his undergraduate degree in Television-Radio from Ithaca College and Master's degree in Audio Technology from American University.