For all the online speculation about the pending demise of physical media for music, audio-only Blu-Rays seem to be enjoying a renaissance of sorts in 2022-23. Within the last 18 months, classic albums such as Tears For Fears' The Hurting, Ten Years After's A Space In Time, Pink Floyd's Animals, and The Alan Parsons Project's The Turn Of A Friendly Card have appeared in affordable, no-frills single disc Blu-Ray editions.
Perhaps in response to the success entities such as SuperDeluxeEdition.com and Cherry Red/Esoteric Recordings have found with immersive music on Blu-Ray, Rhino Entertainment – Warner Brothers' catalog division – have suddenly revived their their long-gestating series of "Quadio" reissues containing newly-remastered digital transfers of quadraphonic mixes from the 1970s.
Throughout the mid-70s, the Warner Brothers family of record labels (WB, Reprise, Elektra, Atlantic, Asylum, etc) released dozens of contemporary pop, rock & jazz albums on quadraphonic LP and tape. Their quadraphonic LPs used the 'CD-4' system, which required an external 'demodulator' device and special phono cartridge to retrieve the rear channel information.
(The detailed "About This Quadradisc by Ivan Berger" insert came packaged with every WEA CD-4 LP, and has been recreated faithfully in the booklets of these new Quadio Blu-Rays)
These CD-4 LPs – sometimes also referred to as "Quadradiscs" – usually gave a more impressive four-channel effect than CBS/Columbia's competing 'SQ' matrix-based quad system, but the complex calibration process and cost of the extra equipment proved too arduous for the average listener. Fortunately, with the advent of modern optical formats like DVD and Blu-Ray, these amazing 50-year-old surround mixes can now be appreciated like never before.
The first "Quadio" products arrived in 2010, when – following the unfortunate demise of their high-resolution 5.1 surround DVD-Audio format – Rhino/Warner surprised audiophiles by issuing a limited-run DVD editions of Chicago's 1969 debut album Chicago Transit Authority and Aretha Franklin's 1973 Best Of compilation, both containing the rare quadraphonic mixes in 48-khz/24-bit DTS audio.
Things remained quiet until June 2016, when the Chicago Quadio box set – containing nine(!) Blu-Ray discs with the band's entire quadraphonic output remastered in 192-khz/24-bit DTS-HD Master Audio – appeared out of nowhere. In September 2020, a similar Doobie Brothers Quadio box set followed containing The Doobie Brothers' four quadraphonic albums on Blu-Ray.
Now, in June 2023, the series has been revived once more with four titles available exclusively through the Rhino store: Alice Cooper's Billion Dollar Babies (1974), The J. Geils Band's Nightmares…And Other Tales From The Vinyl Jungle (1974), Jefferson Starship's Red Octopus (1975), and Black Sabbath's sophomore outing Paranoid (1970).
(The four new Quadio Blu-Ray discs pictures alongside their CD-4 LP counterparts, plus the quad 8-track of Billion Dollar Babies)
Though Paranoid was originally released in September 1970, the quadraphonic version - mixed by Mike Butcher at Morgan Studios in London – wasn't issued until 1974. To this day, it remains the only Black Sabbath album to have received a surround/immersive mix – which is especially disappointing given Steven Wilson's involvement in the recent Vol. 4 (1972) and Technical Ecstasy (1976) super deluxe reissues.
Butcher's quad mix – while perhaps a bit 'gimmicky' by today's standards, with its copious use of panning & swirling effects – does open up the album in an effective manner, separating out a lot of Tony Iommi's guitar work and percussion into the rear speakers. "War Pigs" features Bill Ward's thunderous drumming crashing all around the room, while Ozzy Osbourne's unmistakable vocals fill up all channels.
As visualized above, the opening guitar lines to "Iron Man" swirl all around the room while the kick drum fills up all channels and vocoder-processed vocals appear directly behind the listener's head.
The opening riff to the title track bounces between the rear speakers, giving way to percussion and vocal delays from behind while the drums & lead vocal take up the front. The gentler, trippy atmosphere of "Planet Caravan" – previously marred by awful surface noise on the quad LP and hiss on any of the consumer tape versions – can finally be appreciated in this new Blu-Ray version.
The dynamic range is superb as well, exemplified by the contrast between the quieter verses and heavy choruses of "Hand Of Doom." There's a particularly fun bit towards the end of that tune where Osbourne's vocal rotates from speaker-to-speaker around the room.
Fans may recall that Sanctuary Records in the UK issued a CD/DVD deluxe edition of Paranoid way back in 2009, with the quadraphonic mix included on the DVD. Unfortunately, it appeared to have been sourced from a needle-drop of the quad LP rather than the 15 IPS four-channel master or even a 7.5 IPS consumer tape copy. This ignited speculation in audiophile circles that the quad master may have been lost or unavailable, but the new Quadio Blu-Ray reveals that it's been in safe hands all along.
Thrilling as it is to have this disc in my possession, I can't help but feel there is some room for improvement here as far as the overall sound quality goes.
Craig Anderson (whose mastering resume includes a number of older WEA 5.1 titles, as well as the Chicago & Doobie Brothers sets) is at the helm once again, and – as with The Doobie Brothers set from 2020 – I'm finding there to be a somewhat edgy quality to the top-end, particularly in the heavier ending passages of songs like "War Pigs" and "Hand Of Doom" where there's a lot of cymbal work.
The rear channels in general seem a touch overpowering, which is especially noticeable during the passages with circular pans (hi-hat leading into the first verse of "War Pigs," lead guitar at the beginning "Iron Man," etc) as the level of the rotating element dips slightly when it hits the front speakers.
Gripes aside – and other listeners' experience and taste may vary from my own – this disc still represents a monumental improvement over prior quadraphonic vinyl or tape releases of Paranoid. $24.99 is a huge bargain, especially considering that the 7.5 IPS quad reel-to-reel has sold for upwards of $200 USD in the past.
Should Rhino opt to continue the series beyond these initial four titles, possible candidates for future release could include best-selling albums by the likes of Deep Purple (1972's Machine Head & 1974's Stormbringer), James Taylor (1972's One Man Dog & 1975's Gorilla), Randy Newman (1972's Sail Away & 1974's Good Old Boys), Jackson Browne (1974's Late For The Sky) and more!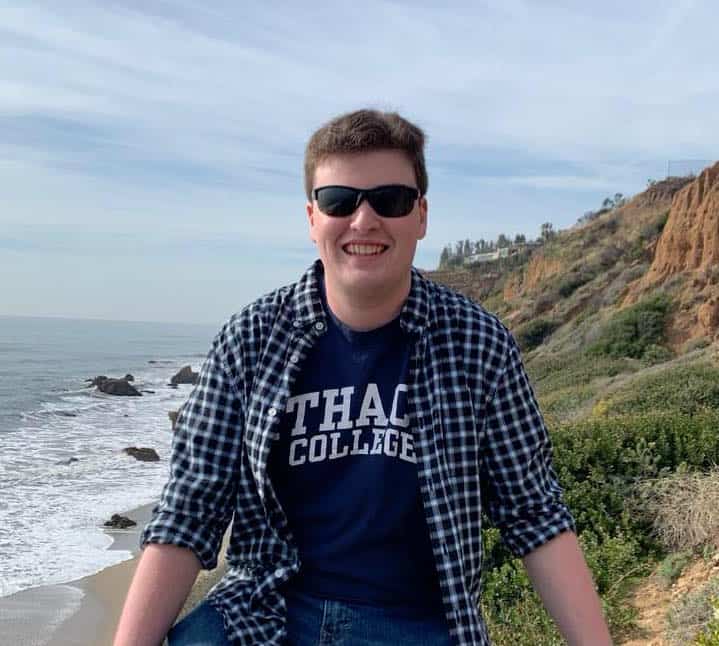 About the Author
Jonathan is an audio engineering enthusiast from New York with a passion for immersive audio, having amassed a formidable collection of multichannel optical discs and quadraphonic vinyl. He earned his undergraduate degree in Television-Radio from Ithaca College and is currently enrolled in a Master's Program in Audio Technology.