Shortly after the dissolution of The Beatles in mid-1970, guitarist George Harrison assembled an all-star cast of musicians to record his debut statement as a solo artist. Featuring contributions from the likes of Eric Clapton, Klaus Voorman, Ringo Starr, Badfinger, and Jim Gordon, plus production & mixing duties handled by the now-infamous Phil Spector, All Things Must Pass was released in November 1970 to huge success. The hit singles "What Is Life," "Isn't It A Pity," and "My Sweet Lord" (which became the subject of a high-profile plagiarism lawsuit in the late '70s) still endure today on classic rock radio.
In crafting the sound of the album, Spector utilized his trademark "Wall of Sound" production style. Densely-layered tracks such as "Wah-Wah" and "What Is Life" feature copious amounts of echo and reverb applied to create the impression of a massive, larger-than-life performance space. While the "Wall of Sound" may have contributed to the album's success five decades ago, some fans have expressed interest in hearing a drier, more intimate rendition of the performance. Even Harrison himself came to regret the album's production to some degree, with plans to issue a 30th anniversary remix of the album halted by his untimely death in November 2001.
Nearly two decades later, Harrison's son Dhani and longtime Beatles collaborator Paul Hicks have joined forces to remix the album in stereo, 5.1 surround, and Dolby Atmos for the 50th anniversary 5CD/Blu-Ray Super Deluxe boxed set.
For better or for worse, the 2020 remix of All Things Must Pass is not necessarily the "de-Spectorized" version that some longtime fans may have been hoping for. The "Wall of Sound" is very much intact on the remix, most likely due to Spector's practice of recording effects directly to tape instead of tracking dry and applying them during the mixing sessions. Hicks has certainly managed to add some clarity and definition to the more-cluttered passages of "Wah-Wah" and "What Is Life," but the album very much retains that familiar 'hollow' sonic signature from the original vinyl pressings.
The most notable alterations I could identify in the remix are the drier, more-upfront lead vocals - which are sometimes a bit too prominent for my taste - and the more powerful bass guitar. Much like Hicks' recent remixes of John Lennon's Plastic Ono Band (1970), the low-end seems somewhat over-emphasized. Applying a bass cut of roughly 3-5 dB vastly improves the tonal balance on my system, but that may just be a matter of personal preference.
I'm pleased to report that both the 5.1 surround & Dolby Atmos remixes are very immersive, with lots of important musical elements emphasized or completely isolated in the rear speakers. Most songs feature the rhythm section arrayed across the front channels, with Harrison's voice mostly confined to the center speaker and supportive elements like harmony vocals, acoustic guitars, and strings filling up the rear soundstage. I will note that the rear channels seem a bit louder on the Atmos mix, even when played back on a 5.1 system. Some fans may prefer this, but the dedicated 192-khz/24-bit DTS-HD 5.1 mix certainly isn't lacking in rear activity to my ears.
While perhaps not as impressive as some of Steven Wilson's 5.1 remixes of classic progressive rock albums from the same era, I'm impressed with what Hicks has achieved given the limitations of the 50-year-old 8-track and 16-track master tapes. In order to make room on the master reel for overdubbed elements such as horns or backing vocals, Harrison and Clapton's guitars were pre-mixed into a stereo pair. This obviously limits the possibilities for the new surround sound mixes, as it's impossible to separate the layered acoustic or electric guitar parts and place them in different positions around the listener.
Standout immersive tracks include "What Is Life," with the lead guitar mostly emanating from the rear speakers, and "Apple Scruffs," with the vocal harmonies placed in the rear speakers. The electric guitar intro to "Wah-Wah" comes almost entirely from the left rear speaker, while the great acoustic guitar interplay in "Run Of The Mill" and "Isn't It A Pity" is mostly confined to the back of the room as well. All that being said, I was rather disappointed to find the iconic backing vocals in "My Sweet Lord" coming from the front speakers rather than the rears.
In addition to the Blu-Ray disc with high-resolution stereo & surround sound remixes, the box set also includes two redbook CDs of previously-unheard outtakes from the album's recording sessions. It's fascinating to hear an early acoustic demo "My Sweet Lord" at a slower tempo, as well as a harder-rocking version of "What Is Life" without the horns and backing vocals. It would have been nice to hear these outtakes and demos mixed in surround sound, as was done for the Super Deluxe Edition of John Lennon's Imagine back in 2018.
Overall, despite my slight gripes with sound quality of the remixes, I think the Harrison estate has done an excellent job with this deluxe reissue. Paul Hicks' 5.1 mix opens up the album nicely, while adding much-needed clarity where possible. I can only hope that Harrison's other solo albums will receive similar deluxe editions with surround sound in the years to come.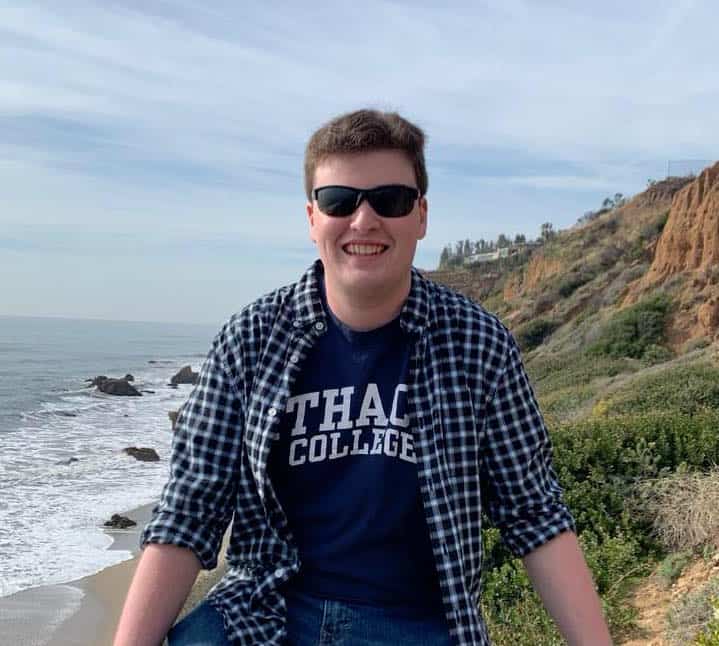 About the Author
Jonathan is an audio engineering enthusiast from New York with a passion for immersive audio, having amassed a formidable collection of multichannel optical discs and quadraphonic vinyl. He earned his undergraduate degree in Television-Radio from Ithaca College and is currently enrolled in a Master's Program in Audio Technology.