As someone initially only familiar with key songs in their catalog like "Locomotive Breath" and "Bungle In The Jungle," Jethro Tull's 40th anniversary reissue series has made for an incredibly rewarding journey of discovery.
The creative output of frontman Ian Anderson and the ever-changing lineup of the band was staggering, to the point where they were able to crank out a new album every year for over a decade (1968-1980)
Jethro Tull's musical development from their 1968 debut This Was through to the band's peak popularity in the mid-70s (1971's Aqualung and 1972's Thick As A Brick) and beyond is quite fascinating to track through all these sets, as they quickly discarded the more blues-oriented sound of the first three albums into their truly unique brand of progressive rock with shades of medieval folklore and other celtic influences.
It seems the band were faced with something of a crossroads at the onset of the 1980s, with the growing use of synthesizers and programmed percussion in popular music. Could they change with the times while also remaining true to what originally made them great?
The band would interestingly opt to veer into more experimental waters for 1980's A, their first studio album of the new decade, no doubt informed by contributions from U.K.'s Eddie Jobson on violin and keyboards. Broadsword marks to a return to simpler straight-ahead rock songs, with less in the way of odd time signatures and eclectic instrumentation.
Of all these 'later era' albums (1979's Stormwatch is said to be the clear demarcation line between these different phases of the band), I think Broadsword represents the most successful fusion of Jethro Tull's signature sound with 1980s-era production trends. Ian Anderson's flute and Martin Barre's instantly-recognizable melodic guitar lines are still ever-present, though perhaps not quite as prevalent as they were in the '70s albums.
The bass guitar and kick drum are certainly more prominent in the 2023 remixes (stereo & 5.1), affording the music more visceral power and 'punch', but I wouldn't say that Steven Wilson has performed a miracle and made this sound as good as any of the '70s-era recordings. There's still an annoying sharpness to the cymbal crashes in some songs (most notably the opener "Beastie") that I'd hoped could have been smoothed out a bit more, and the keyboard sounds in tracks like "Watching You, Watching Me" or "Broadsword" are as dated as ever.
Similar to Wilson's past 5.1 remixes of the Jethro Tull back-catalog, the rear speakers are used quite extensively throughout for ancillary elements like flute, backing & double-tracked vocals, keyboards, strings, rhythm (and in some cases lead) guitar, and percussion.
"Beastie" kicks off with Peter-John Vettese's malevolent synths swirling all around the listening space, while Ian Anderson's voice appears almost entirely confined to the center speaker. Double-tracked vocals pop up from behind on a key line ("he's the hundred reigns of terror"), giving way to the thunderous room-filling drums and rear-panned synths.
Moving into "Clasp," one of my favorite tracks on the album, the phased drums circle the room while Anderson's vocoder-processed backing vocals gently emerge from the rears. Barre's guitar is mostly confined to rear right, with its delay traveling across rear left. I did feel there was a bit of an odd moment midway through this song, where the backing vocals ("refill the cup and drink it up…") burst from the back speakers quite loudly in comparison to the original stereo version.
Barre's guitar again appears from behind throughout "Fallen On Hard Times," while Vitesse's synths are arrayed across the front stage. The melodic piano intro to "Flying Colours" gives way to another rocking arrangement, again with a steady diet of double-tracked vocals and lead guitar licks in the rear speakers.
"Slow Marching Band" was never a favorite of mine, but the new 5.1 mix really enhances this tune. Anderson's multi-tracked vocals ("walk on slowly…") are positioned all around the room to really spine-tingling effect.
What originally constituted 'side 2' of the album ("Broadsword" through "Cheerio") doesn't hold my interest as well as the first half, but the excellent surround sound treatment definitely makes these songs more engaging than before.
Similar to "Slow Marching Band," "Broadsword" takes on a newfound majesty and power in this reimagining. There's a particularly fun passage where Barre's guitar and Vitesse's synth trade solos from the center speaker to rear left and finally rear right.
Perhaps the best aspect of this set is DVD 2, containing a multitude of 'associated recordings' from the Broadsword sessions newly remixed in stereo & 5.1. Some of these songs were previously released as part of the 1993 Nightcap box set ("I'm Your Gun," "Overhang," etc), whereas others ("Calafel," "Inverness Sleeper," etc) appear for the first time ever.
Past reissues in this series has provided a treasure trove of excellent previously-unheard studio material, including fully-completed songs like "Old Aces Die Hard" from the Songs From The Wood (1977) sessions and "Coriusk" from the A (1980) period, but this particular might be the most impressive of the lot in that regard.
I've never met anyone like Ian [Anderson] before in my life. They were recording [Broadsword] on-and-off for about 18 months. There's the ten album tracks and then 25 additional songs, hardly any of which are alternate arrangements of the album tracks. He wrote and recorded at least 30 different songs in that period. Absolutely nuts.

Steven Wilson, July 2022 (link)
Listening to the uniformly high quality of these extra songs, I'm almost baffled at what was chosen for the final album. Tracks like "Lights Out" or "The Curse" would have been great replacements for some of the weaker material on side 2, at least in my view.
I also think Wilson was willing to go a bit further with the surround treatment on the associated recordings versus the ten original album tracks, where he had to contend with some listeners' decades of familiarity with the material. There are a number of fun 'showy' moments in these extra songs where the keyboards or other elements swirl around all five speakers in a circular pattern, most notably in "The Curse" and "Overhang."
Other highlights from DVD 2 include the short instrumental "Calafel"–featuring some inspired guitar work from Martin Barre–and the acoustic version of "Jack-A-Lynn," showcasing Anderson's double-tracked vocals in the rear speakers.
Once all the '80s sounds of the full band arrangement are stripped away, it recalls Anderson's great acoustic songs from the prior decade like "Wond'ring Aloud" from Aqualung or "One White Duck" from Minstrel In The Gallery (1975).
As if more than thirty studio tracks presented in surround sound wasn't enough, DVD 3 includes the band's 1982 Live in Germany performance also remixed in stereo & 4.1 (no center channel) surround by Wilson.
This show is a great document of the band's live prowess during the Broadsword era, but–no doubt due to the limited nature of the 8-channel soundboard recordings–the surround mix is definitely not as impressive as what he was able to achieve with the 1980 Live At The L.A. Sports Arena recording included in 2021's A (A La Mode) set.
Overall, this is another winning reissue from the Jethro Tull 40th anniversary series that comes highly recommended to fans of this particular album and the band in general. Though more expensive than prior entries (most outlets seem to carry it for around $65 USD), I'd still consider it a bargain considering the amount of content packed in.
If this is indeed Steven Wilson's final remix for Tull (as he told us back in July 2022), I'm hopeful the series will continue in the hands of another great surround sound mixer. Bruce Soord seems to be the natural candidate for the job, having helmed the recent 5.1 & Atmos of Tull's latest studio album Rokflote (2023).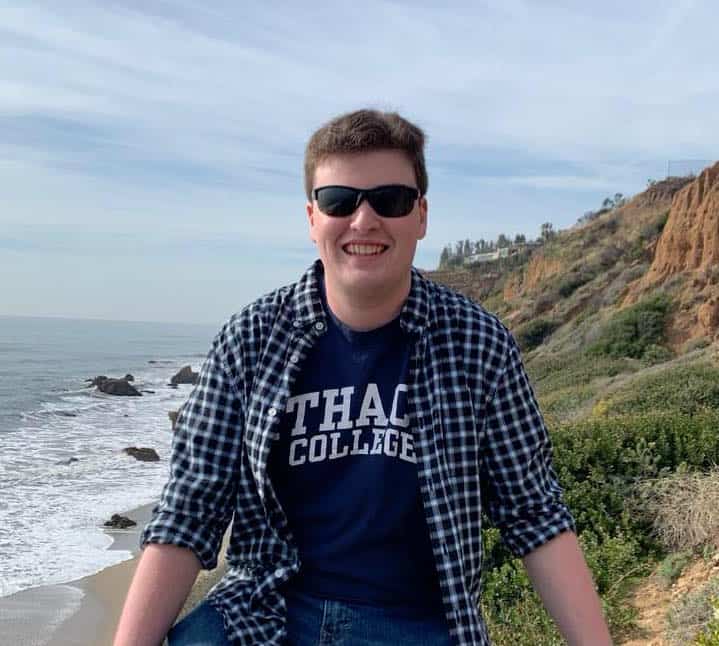 About the Author
Jonathan is an audio engineering enthusiast from New York with a passion for immersive audio, having amassed a formidable collection of multichannel optical discs and quadraphonic vinyl. He earned his undergraduate degree in Television-Radio from Ithaca College and is currently enrolled in a Master's Program in Audio Technology.