It's been nearly twenty years since Jethro Tull released what was once thought to be their final studio album, The Jethro Tull Christmas Album (2003). Since then, there have been line-up changes, tours, a brilliant reissue series, and three solo studio albums from frontman Ian Anderson (including 2012's brilliant Thick As A Brick 2, a sequel to Jethro Tull's classic 1972 album Thick As A Brick)
For those taking note, this is the first Jethro Tull since their 1968 debut, This Was, made without the participation of longtime guitarist Martin Barre.
That being said, the new lineup is more than worthy of the Jethro Tull names and exceeds expectations. The new members are Joe Parrish-James (guitar), Florian Opahle (guitar), Scott Hammond (drums), John O'Hara (piano, keyboards and accordion) and David Goodier (bass). All five have either toured with Anderson or played on his solo albums.
The Zealot Gene opens with a foreboding note, which very quickly is countered by Anderson's flute. It's the perfect way to begin the album, showcasing a combination of progressive rock and folk music that will continue throughout.
The opening song, "Mrs. Tibbets," introduces the concept of the album. On The Zealot Gene, Ian Anderson explores primal human emotions set against biblical verse. Always a brilliant songwriter, Anderson shines on this album with some excellent lyrics. This is followed by "Jacob's Tales," which features Anderson on harmonica. Definitely give a listen to the third track, "Mine Is The Mountain," which features beautiful piano from O'Hara dueting with Anderson's flute.
"Shoshana Sleeping" is one of the most unusual pieces on the album, offering a goth-like quality uncommon to Anderson and Tull's music. Although this is a conceptual progressive rock album, Anderson was smart to keep the songs on the shorter side: all but two tracks clock under five minutes.
Over the past several years, Anderson has spearheaded a reissue series of Jethro Tull's 1970s catalog featuring new stereo & 5.1 remixes by Steven Wilson. This time around, King Crimson frontman Jakko Jaksyzk has been tasked with creating the 5.1 mix. Jakszyk is no stranger to surround sound, having previously created 5.1 remixes of Emerson, Lake & Palmer's Trilogy (1972) and Anderson's own Homo Erraticus (2014).
The 5.1 mix is breathtaking and unquestionably the best way to experience The Zealot Gene. The surround effect is often subtle, but effective. The backing vocals are frequently placed in the rear speakers, while Anderson's lead vocal is isolated in the center channel. Overall, the album sounds very inviting and engages the listener differently than the regular 2-channel stereo mix.
The Zealot Gene is a brilliant album and welcome addition to the vast Jethro Tull catalog. It's been far too long since Jethro Tull's name appeared on an album sleeve with all new material, but this was worth the wait. It took the band nearly five years to complete the album–mostly due to the COVID-19 pandemic–but they managed to come up with something quite different for 2022. The brilliant use of 5.1 surround sound allows the listener to hear just how good this incarnation of the Jethro Tull the band is and how well they play together.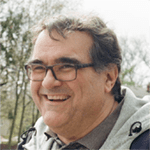 About the Author
Aaron Badgley developed a love of music at a very young age, growing up in a house with the radio or records being played all the time. He went on to a career in radio, producing many shows, as well as being the sound man for numerous concerts in the 1980s. He also had a syndicated radio show, Beatles Universe, which played throughout North America for five years. He has written for numerous publications and continues to enjoy music whenever he can.