Richard Whittaker has over twenty years of experience in frontline audio engineering, having worked with notable artists such as The Who, The Rolling Stones, Kiss, Ultravox, and Gilbert O'Sullivan.
He specializes in all things audio, from vintage analog tape formats all the way through to cutting-edge DAW technology. He's also become heavily involved with Dolby Atmos music, having mixed numerous songs in the immersive format for artists such as Gabriels, Kylie Minogue, Foals, Potter Payper, Flo, Nia Archives & Jeremy Loops.
I recently had the chance to chat with Richard about his career path, experience with immersive mixing, and where he thinks the industry is headed.
How did you first get into engineering and producing music?
I've been involved with music for as long as I can remember, but it wasn't until I was around 18-19 years old that I started getting into multitrack tape recording. The music college where I was studying back then had a B16 half-inch machine patched into a sound craft desk and I was hooked. From there, I progressed to recording on 2" and PCM3324 amongst many other tape and hard disk recording formats.
DAW software back then was fairly basic. I started with Cubase, then progressed to Logic and was introduced to Pro Tools whilst studying for my degree in Music Technology at York University. The curriculum at York focused mainly on ambisonic technologies, so I was introduced to surround sound theory and application during the mid 90s.
About a decade ago now, I understand you worked with Bob Pridden in remixing The Who's classic Tommy and Quadrophenia albums in 5.1 surround. Can you share any anecdotes about these projects?

After I graduated, I moved to London to study for a masters degree in Ambisonic Technologies. I managed to pick up a fair amount of studio work that helped pay the bills, but most of that work ran through the night and my coursework was during the day. Suffice to say, something had to give. I ultimately chose to put my studies on hold and pursue studio work, which is where I eventually met Bob Pridden. Bob and I have been very good friends for almost 20 years now, he's an incredible engineer and has taught me so much over the years.
I think the first major project we worked on together was The Who's Live At Hull. The story is that the bass feed was faulty for the first six songs on Hull, so it was subsequently shelved and Live At Leeds was released instead.
For the Hull project, we rebuilt the missing bass lines using a combination of the Leeds bass tracks and any available "open mic" bass parts from Hull. I forget how many thousands of edits were performed, but it was a Herculean task for the team involved.
The first 5.1 project Bob and I worked on was the Quadrophenia studio album. We had initially mixed just a few tracks for the 40th Anniversary box set, but we eventually finished the entire album.
I remember having to trawl through hundreds of tapes to piece together the definitive album recordings. We'd eventually found everything apart from the closing brass chord and bell tree crash sound. We searched everywhere and couldn't find anything remotely similar. Then, Bill Harrison – The Who's archivist at that time – found a 2" reel with no documentation or provenance. The only thing written on the box was the word "WIZARDRY" in pen. We weren't even sure it was a Who tape, but it turned out to be exactly what we were looking for.
Bob and I worked on quite a few other 5.1 albums, such as the Quadrophenia film OST, the Tommy studio album, and Live At The Isle of Wight. Last year, I introduced Bob to Dolby Atmos and he absolutely loves it. In fact, we have a bunch of Atmos projects scheduled for release this year!
If possible, explain your approach to mixing music in surround sound. Some prefer a more conservative route and use the additional speakers primarily for reverberation, while others are more experimental and place isolated instruments behind or above the listener. Are you trying to create a 'center of the band' or 'in the audience' perspective? Where do you draw the line between immersive' and 'gimmicky'?
It's difficult to give an exact technique as it very much depends on the piece of music. Some songs definitely lend themselves to a more experimental approach. For example, Lara Simogyi's ! had huge brush strokes of texture, color and movement. Kiss' Creatures Of The Night required a very different approach, with some subtle movement and the main emphasis being the consistent energy and intensity throughout the entire space.
I always prepare by listening to the original stereo mix thoroughly, multiple times over, and taking notes in order to get the feel and intention. It's a similar preparatory technique to mastering.
As a side note, I think it's important to keep the headphone mix as close to the room sound as possible. Anything that sounds drastically different on headphones versus the room requires a re-think. I understand that binaural technology will adapt and improve, so this shouldn't be seen as a creative limitation. That said, I find that if a mix works in the room and on headphones then it's a good indicator that the mix translates.
How does mixing in Dolby Atmos differ from 5.1 surround? Do you mix primarily with objects, or a combination of beds and objects? How many albums and singles have you mixed in Atmos to date?
Whether it's Atmos or 5.1, my approach to a mix remains the same. I'd say that the main stumbling block with Atmos mixing is the lack of mix bus processing. There are techniques I use to get around this for now, but I'm sure there'll be a vast array of software to fill this void in 2023.
I do tend to use mainly objects and reserve the bed for LFE, surround reverbs and effects. However, some mixes seem to work better with more bed than object content. It really is a case-by-case basis.
As for how many albums and singles I've mixed in Atmos so far, I've lost count [laughs]. In addition to the legacy work, I've done a lot of new release work for all the major labels.
I'm fascinated by the idea of revisiting these old 8, 16, or 24-channel multitrack tapes and creating a "retrofit" immersive experience. Was it difficult to match all the effects and balances of the original stereo versions in these remixes? Were there any aspects of the originals you couldn't effectively recreate?
This is quite a specialized area. Unless it's intended to be a new interpretation from the start, the Atmos mix has to be faithful to the original stereo version. In order to do this, it has to be forensically correct on so many levels.
The first stage is to line up the raw multitrack recordings with the stereo mix and fix any edits or timing discrepancies. This generally includes matching arrangement edits and some sympathetic linear varispeed to correct mechanical drift.
I then listen and forensically compare each and every part to the stereo mix, just to be absolutely sure they match. Missing parts are a frequent problem, and I've developed various techniques for 'de-mix' reconstruction in order to address this.
Once the multitrack is rebuilt and plays as seamlessly as possible with the aligned stereo mix, I then research the provenance of the recording. This includes scrutinizing any available mix notes and tape box scans. I usually research the studio where the original mix was done and try to find any online interviews with the engineer or producer. Being able to identify certain details such as the analog console originally used really helps tighten the EQ curves and compression fingerprint.
Correctly identifying the type of effects used and the way they were employed is also essential to the process. Having worked for so many years in both analog and digital studios, I can usually ID such things as the type/model of spring reverb, is that drum or magnetic tape echo, which model/era of plate did they use, is there a Revox on the send or return, is that sampler a Publison or Fairlight, etc. Plugins are kind of close these days, but it's having the experience, knowledge and ear for those subtle details that makes a world of difference.
Once everything is in place, I create a stereo mix and put it under the microscope by A/B'ing and null testing directly against the original stereo master. This process highlights anything I may have missed. Finally, I'll send that new stereo mix along with the original to the client so they can provide feedback.
Tell us about remixing Traffic's classic 1971 album The Low Spark Of High-Heeled Boys in Dolby Atmos. Was Steve Winwood involved in the remixing process?
This was such a cool project. I'm a big fan of Steve's music, and Low Spark is one of my all time favorite records. It was a really tricky mix as there were so many micro-adjustments made throughout each song. As I understand it, the band and Brian Humphries were all huddled around the console constantly adjusting EQ, effects and levels in real time.
When I'd finished the Atmos mix, Steve's engineer came over for a listen and I think there were one or maybe two minor adjustments he asked me to make before Steve got involved.
Steve then came over to my studio and listened to the whole thing from start-to-finish. He then turned to me and said, "I love it." I was thrilled to say the least!
How does the immersive remixing process differ with older catalog material such as Kiss' Creatures Of The Night or the aforementioned Low Spark versus a new album like Gilbert O'Sullivan's Driven?
With the Gilbert O'Sullivan record, I was initially given pre-mixed stems by Andy Wright and Gav Goldberg. In that case, there was no mix-matching involved.
I worked closely with Andy and Gav and was able to get specific parts broken down into more of a 'wet' multitrack, which gave me much more control over the immersive experience. Andy wanted the Atmos version to represent how the album was recorded, with all the band playing together in the same room, and he was super happy with the end result!
Do you have a personal "wishlist" of albums you'd like to see remixed in Atmos?
Oh, there are literally hundreds! If it hasn't already been done, Miles Davis' Bitches Brew immediately springs to mind.
Timeless by Goldie would be great too, as that is a modern classic and would really work well in an immersive experience.
The Blind Faith self-titled album would be another, as that is up there with Low Spark for me.
With the introduction of Apple's "Spatial Audio" format, it seems most listeners are experiencing a binaural approximation of Atmos over headphones rather than the full immersive experience on a home theater setup. Is it difficult to simultaneously achieve effective results on both speakers and headphones?
As mentioned earlier, I always ensure the mix sounds as close as possible on headphones, to the room. I always check the binaural and MP4 post mix, just to be sure there's no nasty surprises.
This past July, your Dolby Atmos mix of Gilbert O'Sullivan's Driven was issued on a limited run Blu-Ray disc by Super Deluxe Edition. Do you know if there are plans to issue any more of your Atmos mixes on physical disc? Do you believe there's a significant difference in sound quality between the 768 kbps Dolby Digital Plus codec used by the streaming services for Atmos delivery and the ADM masters?
I hope that both The Pixies' Doolittle and Low Spark make it to Blu Ray, but I honestly don't know of any plans to do so.
Do you feel optimistic about the future of this format? Will Atmos succeed where quad and 5.1 previously failed?
It's been quite a rocky start for immersive music. The format has had lots of banana skins to contend with along the way: not just with the mixing, but also the DSP delivery and Blu-Ray authoring. We've all been on a sharp learning curve and things seem to be evening out.
I think the main advantage with Atmos is the binaural element. None of the previous surround formats had an entry level as such and this, for me at least, is definitely the game-changer. I think there is a very bright future for immersive music, but it fully depends on the tech and marketing. If these fail, then the format fails and we're back to stereo.
Can you tease any upcoming immersive projects you're involved with?
Lots of exciting projects planned, but I couldn't possibly comment [laughs]. Keep an eye on my website www.starboard.audio for upcoming releases and links to all my social media.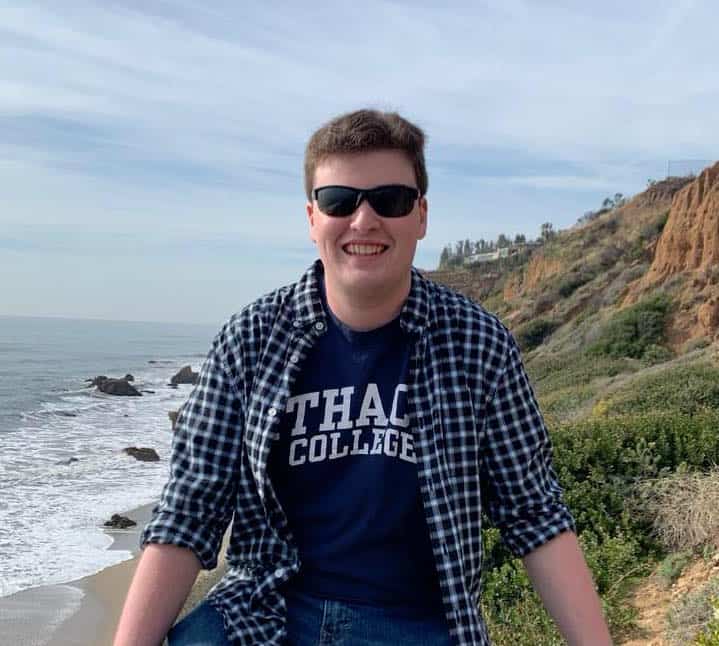 About the Author
Jonathan is an audio engineering enthusiast from New York with a passion for immersive audio, having amassed a formidable collection of multichannel optical discs and quadraphonic vinyl. He earned his undergraduate degree in Television-Radio from Ithaca College and is currently enrolled in a Master's Program in Audio Technology.