Sennheiser is one of the world's leading providers of high-quality audio experiences for professionals and consumers. We wanted to get a personal take on how the industry is shifting towards immersive audio, from someone who is closely involved with the brand's vision. Here we ask Dr. Veronique Larcher, director of AMBEO Immersive Audio, about her thoughts on what the turning point was for immersive audio music, Sennheiser's role in driving technology, and what we can expect in the future.
2020 marks the 75th anniversary of Sennheiser, in what ways has Sennheiser changed and in what ways has Sennheiser remained the same?
Sennheiser is a legendary brand with a long history and respected heritage, but this doesn't mean we should stop dreaming and shaping the future of audio. In the past 75 years, Sennheiser has pushed the boundaries of innovation in audio for consumers and professionals and will continue to do so for the next 75.
I joined the company 13 years ago and many things have changed, but Sennheiser's enthusiasm for leading the future of audio has remained intact. No matter the seniority, our employees are all devoted in realizing this vision. After 75 years, we are still a passionate crew.
Most recently, Sennheiser announced its AMBEO program to lead the company into the field of immersive audio in 2016. AMBEO is addressing the quest for highly emotional, multidimensional sound experiences.
At Sennheiser, we embrace emerging technologies like new object audio broadcast formats, and keep listening and observing to deliver on the current and future needs of our customers. For example, we created AMBEO AR One, the first augmented audio listening accessory for Magic Leap's AR/VR goggles. Separately, together with Continental we recently announced the creation of a speakerless vehicle audio system that offers a premium, and environmentally-conscious, sound experience for future drivers and passengers.
The world is currently thrust into unprecedented challenges, for the music industry and for consumers. How do you view the impact of coronavirus on the future of music?
This situation is strengthening people's bond with music. We hear a lot about maintaining our physical health but mental health of the community matters as well during this crisis. For me, music is always the safe haven where I can find my serenity. Before the virus, many people were occupied with their busy lives and music might have been on the side. But this crisis offered us a chance to rethink the connection between ourselves and music, giving us time back to reflect and listen.
Second, COVID-19 will change the way individuals consume music. The pandemic prevented people from going to live performances because of the need for social distancing. This is heightening people's desire to enjoy the same immersive experience from the safety of their homes and experience virtually the same emotional connection with the artists and the audience around them.
In the last several weeks, we heard many phrases like "bodies distanced, but hearts connected." This rings true as immersive audio experiences will become prevalent in the music industry in the post-COVID-19 era. Sennheiser's AMBEO division is set to pave the way for this new normal. All of the tools and experiences that we have collected and developed are our proof-points that the future of music will be immersive. We have been working on this for years by launching advanced hardware and software products and publishing our best practices blueprints for different immersive audio applications.
What do you view as the turning point for immersive audio? When did it become something for musical artists, and not just for cinema producers?
Smartphones have become our hub to music streaming services and have made it very convenient to listen to music on the go, using headphones for privacy. In turn, this has made binaural audio, the immersive audio format for headphone playback, very relevant with the booming trend of 8D music.
Another key turning point came with the recent technology leaps in the field of Virtual Reality, immersing us in new worlds of visuals and sounds with which we can interact with using portable and affordable gear. At Sennheiser, Immersive Audio has been a hot topic for years. Our Neumann KU100, a binaural stereo dummy head microphone, was launched decades ago and became an industry standard for capturing binaural audio. However, the longstanding tools and techniques are just now gaining popularity as audiences are increasingly interested in novel immersive audio experiences.
In your opinion, are there any underrated present or past products that deserve more industry recognition?
As mentioned before, immersive audio will become the new normal for music. Not only do content creators use these devices and software to record and mix audio, but new generations of artists, vloggers and podcasters will continue finding more impactful and unique ways to capture and present their content. Immersive Audio tools also need to cater to this audience, allowing creators to capture and share the world just as they experience it with a smooth process that renders high-quality immersive audio.
With this we launched the AMBEO Smart Headset in 2018. It was the world's first intuitive, compact, and mobile 3D sound recording headset. The earpieces are fitted with high-quality microphones, letting you create videos with stunningly lifelike sound. It was born to pioneer a new device category. While we may have been a bit early to launch, we believe that in just a few years, we will see this technology take off and inspire more followers in the market.
What system do you have for playing music at home? Do you have any particular artists or albums that you prefer?
The quality time I spend listening to music is most often not at home but instead during my daily commute to the office, when I travel or at work when I need to be focused and creative. For this, I have a selection of headphones depending on the context – all by Sennheiser of course. In our open concept office, I wear a closed-back headphone, the HD 630, because it has great passive attenuation. While taking public transport I wear my MOMENTUM True Wireless 2 earbuds because they are comfortable, conveniently fit in my backpack and sound great. During long-haul flights I prefer the over-ear MOMENTUM Wireless headphones which I can wear for the duration of the trip thanks to long battery life, lightweight design and active noise cancellation.
What is your most memorable moment or proudest achievement as a member of the Sennheiser team?
I can think of several such moments. When we launched the AMBEO Immersive Audio program in early 2016, our company reinvented several processes to make it possible for our first AMBEO product, the AMBEO Virtual Reality microphone, to be brought to the market in just a few months. This was not only a show of confidence in our novel Immersive Audio efforts but also a testimony for the longstanding innovative spirit of the company and its willingness to take risks to enter a brand new market.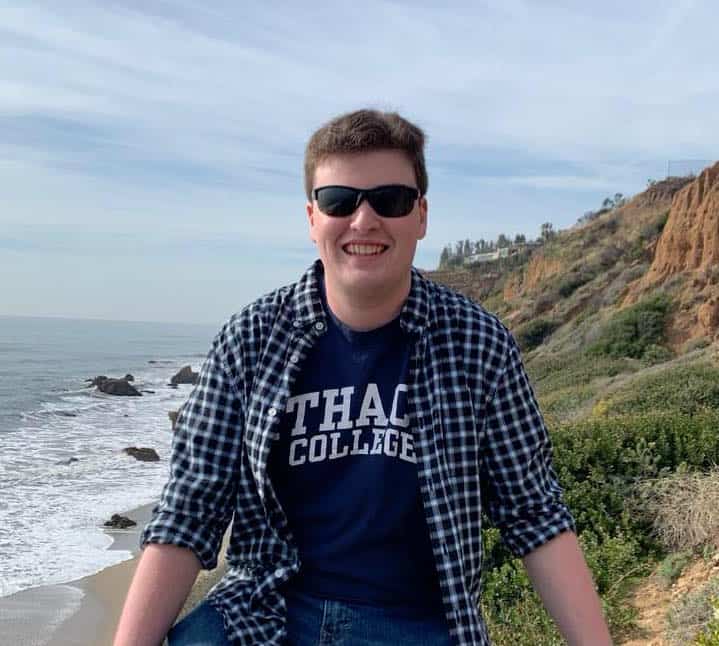 About the Author
Jonathan is an audio engineering enthusiast from New York with a passion for immersive audio, having amassed a formidable collection of multichannel optical discs and quadraphonic vinyl. He earned his undergraduate degree in Television-Radio from Ithaca College and is currently enrolled in a Master's Program in Audio Technology.