With four Grammys, Two CMA's and 10 ACM Awards, Producer/Engineer Chuck Ainlay has recorded and/or mixed well over three hundred albums, including work with legendary & current hit country music artists such as George Strait, Taylor Swift, Miranda Lambert, Lee Ann Womack, Steve Earle, Lyle Lovett, Emmylou Harris, and The Dixie Chicks.
Chuck has placed his distinctive production and engineering stamp on projects with mainstream pop artists such as Dire Straits and nearly the entire solo career of Mark Knopfler as well as Peter Frampton, Lionel Richie, James Taylor, Jewel, Bob Seger, Pentatonix, and Sheryl Crow which has earned him widespread international acclaim.
His work in 5.1 mixing has resulted in ground-breaking projects such as the 25th anniversary remix of Peter Frampton's Frampton Comes Alive and the Grammy award winning 20th anniversary remix of the Dire Straits album Brothers In Arms.

How did you first get into engineering and producing music?
At an early age I became very interested in music, having played in bands and all that sort of stuff. I was also a huge audio enthusiast, reading audio magazines in libraries when I was supposed to be studying. A bit of a techie nerd in that way. [laughs]
I just didn't know how to get started at it. Then I found out about Belmont College, who had just started offering a four year Music Business Program here in Nashville. So I ran down here and got enrolled and did a couple of years before dropping out and then just getting a job in a studio.

You were a very early adopter of 5.1 surround sound, having mixed Vince Gill's High Lonesome Sound in 5.1 for the now obscure DTS-encoded CD format way back in 1997. How were you introduced to the concept of mixing in surround, and what do you enjoy about it most?
DTS had been promoting it at the time and wanted to get a lot of catalog material in the pipeline. They wanted to get their DTS chip in all the receivers, so there was a little battle between them and Dolby at the time.
They were going to the labels and selecting albums they felt were great recordings, and bringing in name engineers to create high-quality remixes in the DTS format. The first one I did was Vince Gill's High Lonesome Sound.
That's where I met Rory Kaplan, who had worked as a keyboardist for Michael Jackson, and was kind of in charge of the surround music project. He and I got to be buddies, and he was thrilled with the work I did on High Lonesome Sound.
That led to other work through DTS, and then the record labels started to realize the potential commercial appeal of 5.1. They loved the idea of revitalizing back catalog material this way, so they started funding these types of projects themselves. I believe that's how the Brothers In Arms 5.1 remix came about - it was done as a Warner Brothers release. They actually issued it as an SACD in Europe and a DVD-Audio in the United States.

If possible, can you explain how you approach doing the surround mixes? Is it difficult to decide how to position all the instruments?
Well, it's really an imagination thing. If it's a remix of something that already exists, I'll listen to the stereo album and try to imagine what that could sound like in a three-dimensional space. I don't really approach any one record the same way. You just kind of do what's required to make the music more appealing.
For albums where there's a lot of instrumentation or a lot of vocals, it's easier to spread things out and create that "inside the band" approach. When there's visual content, like with a live recording, I find it harder to be as immersive because it just seems strange to me to be looking at something in front of me and have as much music coming from behind me as is in front of me. Ideally, the approach I like to take is to use the entire space and feel as though I'm inside it.

The 5.1 surround mix that yourself and Mark Knopfler created of Dire Straits' Brothers In Arms (1985) nearly two decades ago is still considered a reference recording by many immersive music fans. Can you share any anecdotes about the remixing process?
I was already an active mixer when that album came out. Sonically, it blew my mind. I just loved the dynamics and clarity of it. I'd have the CD playing constantly, using it as a reference for records I was working on at the time. I wished my stuff sounded that good! [laughs]
When it came time to do the 5.1 mix for the 20th anniversary, I wanted to keep the intent of the original recording yet also make it sound as "big" as I remembered. As the years go by, sometimes nostalgia colors your impression of these older recordings – but I wanted the surround version to recapture that feeling of when I first heard it.
Like I said, it was a DVD-A release in the US and an SACD in Europe. For the stereo portion of the disc, we had Bob Ludwig remaster Neil Dorfsman's original mix.

The original CD pressings of Brothers In Arms boldly proclaimed it to be "A Full Digital Recording." Were there truly no analog components in the signal chain? Did the early digital tape format used to record the album present issues in the remixing process decades later?
When CDs first came out in the mid-80s, the recording format was digital and the playback format was digital, but there wasn't really any digital mixing. So the SPARS code on the CD stated "DAD," or digital-to-analog-to-digital.
They had recorded it at AIR Studios in Montserrat using a Sony 3324 open-reel machine, which was a 16-bit format with a 48-khz sample rate. That was about as high-resolution as you could get back then, aside maybe from the 3M digital tape format that sampled at 50-khz.
Sony eventually came up with the 3348 machine, which used the same half-inch format as the 3324 with double the number of tracks. Not long after that, tape started to disappear and we switched to hard-disk recording.
When I did the surround version of it, we did a sample rate conversion from 48-khz/16-bit to 96-khz/24-bit within Nuendo. We also mixed the 5.1 on an analog console, just like the original stereo.
I didn't start mixing digitally "in-the-box" until very recently, as I've always preferred the tactile interface of an analog console. With Dolby Atmos and the other new immersive formats, you can't really do that as there's no way to bus all those discrete channels out.

You mentioned that Neil Dorfsman did the original stereo mix of Brothers In Arms. Was it difficult to recreate all his edits and outboard effects in your 5.1 mix all those years later?
I became acquainted with Mark [Knopfler] when he was making the next Dire Straits album, On Every Street (1991). We'd meet in the pub many times and talk about his plans to move format with a solo career. That led to me producing and engineering eight or nine albums with Mark, and then we did the Brothers In Arms 5.1 remix for its 20th anniversary.
During that time he began building what I now consider to be one of the best studios in the world, British Grove in London. It's just fantastic. He's got a big Neve console and the only remaining EMI tube desk, like the ones The Beatles recorded on.
One of the first things we did there was the 5.1 Brothers In Arms, as it's all set up with ATC surround monitors. He's now building an Atmos room in Studio B.
When we first started, it was clear that all the assets weren't there. We ended up finding stuff in Paris, LA, London, and New York. It took maybe three trips to London before everything was compiled.
In terms of documentation, all I had was a track sheet that laid out some of the effects returns they had used. Coming from that period of time myself, I kind of knew what some of the techniques and gear they were using at the time were. I think I mixed the whole album in five days, which is very fast for reimagining such a classic record.

It's probably not a coincidence that many records from that mid-80s to early-90s period haven't been remixed, because the multitrack assets are a mix of analog and digital hardware.
Yeah, the record companies seemed to care much more about preserving the stereo master rather than the multitracks. No one really considered the future existence of formats like 5.1 and Atmos that would require a remix from the ground up.
The analog tapes can at least be baked and transferred, so those have a pretty long shelf life. Hard drives, on the other hand, have a shelf life of 2-3 years. If you don't continually use them, they may not spin up. It's not an easy process to recover that information off a hard drive. That's one of our big problems right now - things recorded to a hard drive that's been sitting on a shelf for years.
Another issue is outdated software for virtual audio. We didn't always make consolidated multitracks with MIDI elements committed, so it'll be interesting to see if those types of things can be recovered.

Given the success of Brothers In Arms, do you know if there were ever plans to remix more of Dire Straits' back catalog in 5.1? Perhaps those records could be revisited in Atmos today.
Well, the consumer didn't really embrace 5.1. I think the format wars between SACD and DVD-Audio confused people, and the labels just stopped investing money in it at a certain point.
In the beginning, DVD-Audio was poised to be the only release format for 5.1 music. Sony had still been developing SACD, but there were complaints that the copy protection used on the DVD-A discs was somehow degrading the audio quality. So they did these extensive blind A/B tests to figure out if that was really happening, and it gave Sony time to bring SACD to market.
Not long after, someone cracked the copy protection for DVD-A. Like I said, it all created consumer confusion and it just kind of went away. We did Mark's Sailing To Philadelphia (2000) and Shangri-La (2004) in 5.1, as well as one of the Dire Straits live albums.
As for the other records, I was approached maybe a year ago about doing them and the funding just wasn't there. Mark has an Atmos room set up, so I presume he'll probably have the work done in-house. To answer your question more directly, I would think all the Dire Straits albums will eventually come out in an immersive format. The music seems perfectly suited for it.

It's exciting to hear that Mark continues to support immersive audio. I hope he can be persuaded to remix the first album, with "Sultans Of Swing," in 5.1 or Atmos.
He loved the idea of Brothers being redone, but I don't think he likes going back through the older catalog material. He kind of makes a record and then moves on as both a songwriter and an artist. Of course he does go out and perform the hits for the fans, but he's always trying to reinterpret those songs and perform them differently.
So he's in turmoil about all that stuff, because he's a great artist. Certainly one of the greatest I've ever worked with. He's got great ears and embraces new technology.
Another classic title you remixed in 5.1 during the SACD/DVD-A years was Peter Frampton's Frampton Comes Alive! (1976). What do you remember about that experience?
Like Mark, Peter is not shy about embracing new technology. We've done a lot of work together lately, since he moved back to Nashville.
In high school, I was a huge fan of Humble Pie and Peter as a solo artist after he left the band. A lot of people didn't take him seriously, but I just thought he was an incredible singer and guitar player. It is such an honor to work with artists like Mark and Peter, they're kind of heroes of the music industry to me.
The opportunity came to do the Comes Alive album for its 25th anniversary, which was pretty daunting. You're talking about one of the biggest-ever live albums, right? Nearly every song was played on the radio.
As with Dire Straits, the multitrack tapes had been sitting on a shelf for 25 years. During the transfer to digital, we noticed damage on the edge tracks which are usually the bass drum or timecode. I had to use triggers and samples to get a decent bass drum sound.
It was a 16-track recording, so they didn't have a lot of ambient mics. Today, you'd have at least six tracks of audience plus a stereo pair at the front-of-house position.
That's the biggest challenge really: to preserve the original recording and try to reimagine it in a new space. I think we did another 5.1 version of it for the 35th anniversary? Peter was joking that we'll have to revisit it again for the 45th. [laughs]

How does mixing in Dolby Atmos differ from 5.1? It appears to require a whole new way of thinking, as specific sounds can be assigned to "objects'' located anywhere in a three-dimensional space.
The physical difference is that you've got the heights, which creates almost a sphere of sound. It's also scalable, so your mix will work in a theater that may have six or eight top speakers. Plus it's streamable, which makes it a much easier format for the consumer to embrace. All they've got to do is put on a pair of headphones and hear this binaural experience, although it's not anywhere near as appealing as the actual speaker experience.
I liked the term that Apple adopted – "spatial" – because it is more immersive than a stereo mix, but you don't really hear the separation in front and back or overhead like you would in my room here.
There's a big push on the industry side now for mixers to come up to speed and have spaces to mix in. Nearly every high-end mix engineer I know has an Atmos-equipped space now. Mixing is being done non-stop, and has been for the last few years.
When it comes to the spatial positioning, there are so many more options in Atmos versus 5.1. Not only are there four heights, but also the side and rear surround pairs. It's a tricky balance to really make use of the extra space while also maintaining some semblance of cohesion.
Yeah, you've got to retain the emotion and soul of the recording. As mixers, it's our duty to bring a song to life and make it emotionally appealing to the listener. That's why music is what it is, because it affects people that way.

I've been amazed at just how much immersive content has become available via streaming, but there is a certain irony to the fact that we've gone from these unimaginably high-resolution 5.1 disc formats of the early 2000s to what's essentially 12 discrete channels of MP3 sound.
Right. The whole resolution thing has been an interesting topic, because both myself as an engineer and the Recording Academy feel it's important to promote the idea of high-resolution and making your recording sound as good as it possibly can for the future. That said, who knows what we'll have in 20 years? Atmos is limited to 48-khz for now, which is not high-resolution in my estimation. For me, it's 96-khz or better.
The Dolby guys are telling me that it's not necessarily a limitation of the format. Nuendo will run at 96/24, but the built-in renderer doesn't work unless the sample rate is set to 48-khz. So for the new Lyle Lovett album I did in Atmos, the 96-khz source recordings had to be downsampled.

That Atmos mix of 12th Of June is superb by the way, I love hearing the horns and background singers coming from behind.
He's sort of been touring that record. Nearly all the songs had been performed live at some point over the last few years. So the idea of the record was like, "Okay, this is where the large band is at right now."
I've seen the live show a number of times, so it was fun to imagine the idea of being in the room with the band. We actually did that recording live. Not everyone could be in the same room because of bleed, but the full horn section and background singers were tracked at the same time as everything else. It was such a fun record to make.
Do you think the label would be averse to releasing a Blu-Ray edition of 12th Of June with the Atmos mix, or is it intended to be streaming-exclusive?
My job isn't really to figure out how they're going to get the music to the consumer, but it seems like streaming is where it's at today. The vast majority of listeners like the idea of walking around with just an iPhone in hand, with instant access to all their music.

You may not be aware that Tears For Fears recently experimented with a limited-run Blu-Ray edition of their new album The Tipping Point (2022) alongside streaming options on Apple Music and Tidal. The initial pressing of 3000 discs sold out in under 24 hours! I think it proves that there is still demand for physical products among audiophiles, and I hope other artists/labels will follow their example.
That is interesting. It's obviously a label discussion, but I'll definitely keep that in mind when it comes to future projects involving Atmos. I think they're still not really sure how to monetize it. A lot of the work is being done on the cheap, so they can get a return for it. Fortunately, Lyle fought for my involvement with the new record.

Can you talk about any current immersive projects you're working on?
Well, I'm currently mixing one of George Strait's 36 studio albums. A&R [artists and repertoire] asked me which album I thought we should do, and I told them that from an immersive perspective, higher track count usually leads to better results, just because you get more information to spread around. That said, I think the earlier stuff can be done in Atmos as well. We'll have the chance to get rid of that crummy reverb they used in the original mixes.
So we're doing the Pure Country (1992) album right now, which was the film that George was in. I'm going back through the Atmos mixes, referencing on both speakers and headphones. It's kind of a back-and-forth process.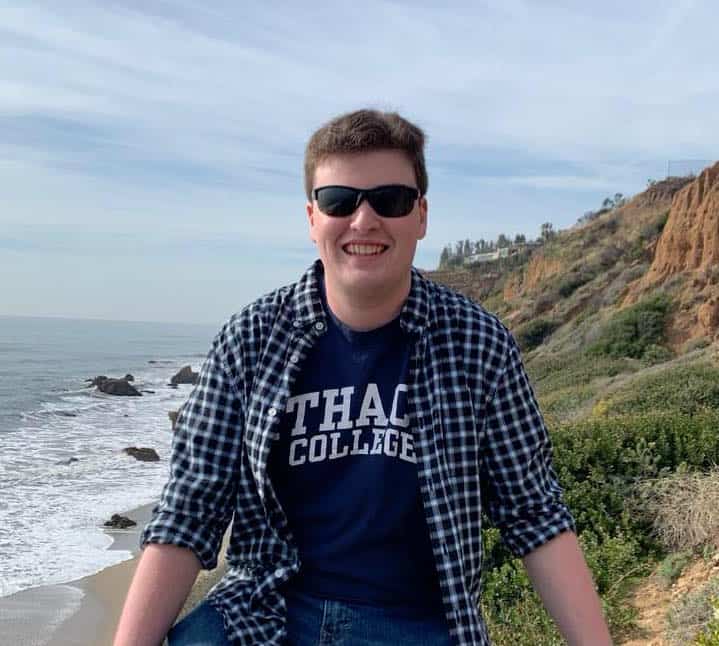 About the Author
Jonathan is an audio engineering enthusiast from New York with a passion for immersive audio, having amassed a formidable collection of multichannel optical discs and quadraphonic vinyl. He earned his undergraduate degree in Television-Radio from Ithaca College and is currently enrolled in a Master's Program in Audio Technology.