Little did Beatles fans realize that, when The Beatles announced their split in April 1970, not only would they be treated to one final album (Let It Be), but also a solo album by Paul McCartney (McCartney), two from Ringo (Sentimental Journey and Beacoups Of Blues), a massive set from George Harrison (All Things Must Pass, which is also getting a deluxe reissue later this year) and John Lennon's first solo outing, John Lennon/Plastic Ono Band. Of course, Lennon released three experimental albums with Yoko Ono and one live album up to this point, but John Lennon/ Plastic Ono Band was his first album of brand new songs.
The album was produced by Lennon, Ono and Phil Spector. But there was none of Spector's 'wall of sound' on this album. Rather, this is a stripped down, bare album, lyrically and musically. Lennon (who plays piano and guitar) is accompanied by Klaus Voorman on bass, and Ringo Starr on drums. Billy Preston makes an appearance on one song ("God") and Spector does provide piano on one song ("Love"). But for the most part, the trio of Lennon, Voorman and Starr is the band. They also backed Ono on her companion album, the classic Yoko Ono/Plastic Ono Band.
John Lennon/Plastic Ono Band was and is a revolutionary album. Never before had an artist bared his soul to this extent. Lennon did not pull any punches. Of course, the album was partially a result of his "Primal Scream" therapy at the time. But nonetheless, it was an honest account of Lennon at the time. Musically and lyrically, the album can be quite painful. It opens with the slow tolling of a bell, which leads into "Mother." The album ends with another song for his mother, "My Mummy's Dead," and in between, one is treated to Lennon at his best. "Working Class Hero" is now a classic, while "Love" and "Look At Me" show Lennon's softer side, while they're still very strong lyrically. And, of course, there is "God" where Lennon very clearly, declared The dream is over and that he does Not believe in Beatles.
The new box set follows in the footsteps of 2018's Imagine deluxe edition and last year's Gimme Some Truth compilation. This set features six CDs and two Blu-Rays containing a remixed version of the album and an additional 159 previously unreleased jams, demos, outtakes, mixes and isolated tracks. This is a feast for Beatles and John Lennon fans. There are a number of jams featuring some classic rock and roll songs, as well as early versions of "I Don't Want To Be A Soldier." As great as these jams are to listen to, for me, it is the early takes of songs and outtakes that make this set essential. One can hear how a song takes form, especially in the "evolution" mixes. "Remember" starts off as a slow song, but winds up being a great rocker. Other songs, such as "I Found Out" and "Well, Well, Well" really take shape and you can hear the progression and a small piece of Lennon's creative process.
As for the Blu-Rays, a great deal of the new material can only be found on those two discs. Perhaps the most interesting addition for immersive fans is the 5.1 remix of the album and the accompanying singles ("Give Peace A Chance", "Cold Turkey" and "Instant Karma (We All Shine On)" are all included). One might think that John Lennon/Plastic Ono Band is an odd choice for 5.1, given the sparseness and minimalistic approach. But in many ways it is no different than having a concert in 5.1. What one gets is a wonderful, almost live sound surrounding them as one listens to the album. "Isolation" and "God" sound particularly vibrant and envelop the listener. Sean Lennon and Paul Hicks once again have come up with fantastic mixes.
The album is also available in Dolby Atmos. While very similar to the 5.1, this process adds additional spatial depth to the music, and one can definitely hear the difference between the two surround sound systems. Which one is better? That is up to the individual listener, but for my money, the Dolby Atmos presented a fuller sound and made for an incredible listening experience.
The two Blu-Ray discs also include all the previously-unreleased outtake material, but only the main album and singles have been remixed to 5.1 & Atmos. There are also outtakes from the Yoko Ono/Plastic One Band album, including never before heard versions of the album tracks plus previously unreleased titles. The set also includes the B-sides of the Lennon singles. Oddly, her album is not available in this set at all, and would have sounded incredible in 5.1.
Overall, a beautiful set. A poster and hardback book is included, which is full of information. It also features diagrams as to how the 5.1 should sound, which is helpful and allows one to align with the intent of the mixes. It is a thoughtful touch. John Lennon/Plastic Ono Band was, and is, one of the most important albums ever released and deserves the box set treatment. A huge task for the Ono-Lennons, but Sean and Yoko rose to the occasion and have produced an incredible piece of art.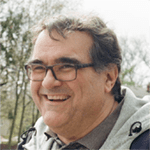 About the Author
Aaron Badgley developed a love of music at a very young age, growing up in a house with the radio or records being played all the time. He went on to a career in radio, producing many shows, as well as being the sound man for numerous concerts in the 1980s. He also had a syndicated radio show, Beatles Universe, which played throughout North America for five years. He has written for numerous publications and continues to enjoy music whenever he can.