When Siobhan Fahey left Bananarama in 1988, she formed a band of sorts – but really it was intended as a solo act. She named this new act "Shakespears Sister." In 1989, she began working with American singer-songwriter Marcella Detroit (best known for co-writing "Lay Down Sally" and performing with Eric Clapton in the late-1970s).
Detroit would ultimately join forces with Fahey during the recording of Shakespears Sister's first album, Sacred Heart (1989). By the time of their second album, Hormonally Yours (1992), the duo had become much more collaborative with Detroit co-writing every song.
Hormonally Yours very quickly caught on with the public, especially in the U.K. and Europe, sporting five hit singles and their signature song "Stay." Fahey and Detroit play off each other beautifully, with every track chock full of strong melodies and clever lyrics that have aged extremely well.
Hormonally Yours opens with an ending, "Goodbye Cruel World." Detroit's guitar work is superb, bringing a presence of energy and anger that flows through the song. There is no resolution, it is just over. This seems to be the overarching theme of the album, although it may not have been the intention of the band. Songs like "I Don't Care," "My 16th Apology," and "Emotional Thing" all have components of troubled relationships and isolation.
It's interesting to note that the album - with the exception of "Goodbye Cruel World" - was recorded at George Harrison's Friar Park studios. The new mixes in both 5.1 & Atmos really expose just how well the individual sounds were captured. Though the Dolby Atmos mix is also available to stream on Apple Music and Tidal, SuperDeluxeEdition.com deserves a lot of credit for continuing to champion high-resolution immersive music on physical disc.
Both spatial mixes were created by Caesar Edmunds in association with original producer Alan Moulder. Edmunds is best known for his work with The Killers, PJ Harvey, Interpol, Beach House and St. Vincent to name just a few. They've created a very warm 5.1 mix, using the rear speakers for more atmospheric elements. In listening to this mix, one gets to experience the full scale of their powerful vocals.
The mix works best for songs such as "The Trouble With Andre," exposing all the layers blended together in the stereo mix. "Moonchild" and "Catwoman" also benefit from the 5.1 mix, in that the energy of the music comes through and it makes for very interesting listening. Oddly enough, "Stay" is one of the least adventurous mixes.
The overall sound quality of the 5.1 mix is much fuller than any prior version of Hormonally Yours available to date. The original vinyl sounded good, but the Blu-Ray presents the music with a much more aggressive rock vibe. There is a newfound depth to the presentation here that was simply not as noticeable before.
Hormonally Yours is a classic album full of great songs. Detroit and Fahey knocked it out of the park with this one, but sadly this would be the last Shakespears Sister album to feature Detroit. Fahey would release two more albums under the Shakespears Sister name, but the duo did not reunite until 2019 for the Ride Again EP.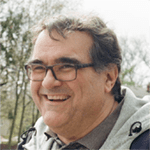 About the Author
Aaron Badgley developed a love of music at a very young age, growing up in a house with the radio or records being played all the time. He went on to a career in radio, producing many shows, as well as being the sound man for numerous concerts in the 1980s. He also had a syndicated radio show, Beatles Universe, which played throughout North America for five years. He has written for numerous publications and continues to enjoy music whenever he can.