If the title of Alan Parsons's sixth solo studio album seems familiar, it might be because it shares said title with a symphony by Antonín Leopold Dvořák (Symphony 9 In E Minor, to be exact). This is no accident, as Parsons explains in the album's liner notes. He grew up hearing Dvořák, as his father often played it in their home. The idea of "home" is a recurring theme on this album, musically and lyrically, from beginning-to-end. Parsons is revisiting areas and times long passed.
In those same liner notes, Parsons admits that he would like to perform Dvořák's piece with rock instruments and orchestra. This is not that album, but one can certainly hear the influences throughout. Once again, progressive rock - with a touch of pop - is the order of the day.
From The New World follows Parsons' acclaimed 2019 solo release, The Secret. As with previous albums, he relies on multiple musicians and vocalists throughout the album. The opening track, "Fare Thee Well," tips its hat to Edgar Allan Poe and The Alan Parsons Project's 1976 debut album, Tales Of Mystery & Imagination. The first line, In a dream within a dream, beautifully introduces the song and album. It is an indication of what is to follow. Todd Cooper, who co-wrote the song, provides strong and powerful vocals.
Parsons is smart, choosing to work with musicians and vocalists who share his vision. "Obstacles" is a great example of this. Mark Mikel, who co-wrote the song, provides vocals that are reminiscent of classic Alan Parsons Project and yet fits with the new album. Longtime collaborator David Pack (formerly of Ambrosia) contributes to the moving "I Won't Be Led Astray", which also features a searing guitar solo from guitar virtuoso Joe Bonamassa. 40 years ago, this would certainly have been a top-ten single.
Styx's Tommy Shaw even makes an appearance on "Uroboros." This is a perfect marriage of two artists, with Styx in their hayday representing a perfect marriage of the pop and progressive genres. Perhaps the oddest guest appearance is that of American Idol finalist James Durban. His vocals blend nicely with the music and "Give 'Em My Love" is the perfect vehicle for him. Once again, Joe Bonamassa contributes a brilliant lead guitar part.
From The New World really does sound like classic Alan Parsons Project, and is perhaps the album fans have been waiting for since The Alan Parsons Project called it a day with the departure of Eric Woolfson.
However, it's when Parsons sings lead that the album truly soars. "You Are The Light" is the highlight of this set. Parsons' vocals are so delicate and vulnerable, adding a whole new dimension to the song.
Most confusing is the last track on the album, a cover of The Ronettes' classic "Be My Baby" sung with a great deal of force by Tabitha Fair. Parsons - a longtime engineer and producer - considers it his tribute to Phil Spector's "wall-of-sound" production technique. It's an odd choice for the closing song, especially following the beautiful Dvořák-influenced "Goin' Home." "Be My Baby," as good as it is, is somewhat anticlimactic after such a powerful song.
Although the vinyl and CD editions both sound great, it's the Dolby Digital 5.1 mix on the DVD that ultimately represents the best version of the album. It sounds fantastic, and the use of 5.1 enhances the listening experience. As with prior releases, his use of the rear speakers is subtle and not overdone.
"The Secret" (which has nothing to do with his previous studio album, other than referencing it) works particularly well in surround, with vocals shifting and surrounding the listener. "You Are The Light" also shines in 5.1, further highlighting the vocals and vocal arrangements.That said, it's "Goin' Home" that benefits the most from the surround effect. All speakers come into play in perfect fashion, yielding an unrivaled immersive experience for the listener.
Overall, From The New World is an excellent sounding album. Musically and sonically, Parsons has come up with another brilliant release. He may not be breaking new ground, but that does not matter. This is a level of certainty when one listens to an Alan Parsons album, and that is just fine. It is well-structured, well-played, and well-produced music. What more do you want? From The New World is a welcome addition to the ever-growing Parsons catalog, and an album fans will certainly enjoy.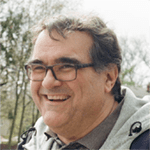 About the Author
Aaron Badgley developed a love of music at a very young age, growing up in a house with the radio or records being played all the time. He went on to a career in radio, producing many shows, as well as being the sound man for numerous concerts in the 1980s. He also had a syndicated radio show, Beatles Universe, which played throughout North America for five years. He has written for numerous publications and continues to enjoy music whenever he can.