Brian Eno first made musical waves as a member of the British art-rock band Roxy Music. Following the release of their second album, For Your Pleasure (1973), Eno left the band to pursue a solo career. In the ensuing two year period, he released his debut solo album Here Comes The Warm Jets (1974) as well as the more experimental No Pussyfooting (1973) in collaboration with King Crimson's Robert Fripp.
Whereas No Pussyfooting was entirely instrumental and an early foray into ambient music, Here Comes The Warm Jets was more of a conventional album featuring vocals. Over time, Eno moved away from singing on his albums and focused more on ambient soundscaping. While those albums are groundbreaking and quite brilliant in their own way, Eno's vocals have been missed. With that said, the news that he would be releasing a new vocal album in October 2022 was met with high expectations and positive anticipation.
FOREVERANDEVERNOMORE has finally arrived and it more than meets the expectations of this fan. Eno has produced one the strongest albums in his career. He's joined by a number of guest musicians, including guitarist Leo Abrahams – whose contributions add a great deal of texture to the proceedings – as well as his daughter Darla and niece Cecily on vocals. Jon Hopkins and Peter Chilvers provide keyboards, while Clodagh Simonds and Kyoko Inatome contribute vocals as well. With a relatively small group of musicians, Eno has managed to create an album that is musically brilliant and extremely well-produced.
FOREVERANDEVERNOMORE opens with the sparse and melancholy "Who Gives A Thought," setting the tone for the remainder of the album. Eno begins by asking who gives a thought to fireflies, moves to nematodes and then ends with questioning about who gives a thought about laborers. His voice is vulnerable and at the same time somewhat distant.
The second song of the album is one he co-wrote with his daughter Darla, "We Let It In." As with much of the album, the instrumentation is sparse and the melody is more felt than heard. The songs are not standard pop/rock songs, but rather vocal ambient music. The vocals are beautifully mixed in with the music.
The album concludes with "Making Gardens Out Of Silence In The Uncanny Valley," a 13-minute epic featuring guest vocals by longtime Eno collaborator Kyoto Inatome. Once again, he combines ambient music with buried vocals to yield an incredible atmosphere. The lyrics are not clear enough to make out, but it does not matter. The vocals are simply another layer in support of Eno's overall thesis.
FOREVERANDEVERNOMORE is also notable in that it represents Eno's first true foray into the world of surround sound, specifically Dolby Atmos. The album takes on a whole new listening experience in this format, even with a standard 5.1 home theater system. It is one of the best-sounding immersive mixes this reviewer has heard to date.
Though the Dolby Atmos mix is also available to stream on Apple Music and Tidal, SuperDeluxeEdition.com deserves a lot of credit for continuing to champion high-resolution immersive music on physical disc.
From the opening track until the end, there are sounds layered here that are simply not heard on the vinyl or CD editions. Eno utilizes all speakers to great effect. The ambient sounds found deep in the mix can be heard in the rear speakers, while sounds in the foreground come from the front.
FOREVERANDEVERNOMORE is a landmark album. It is one of Eno's best-ever works and demonstrates how new technology can be utilized to make remarkable music. The album is dark in tone and lyrically heavy, but the production is relatively sparse. The Dolby Atmos mix takes it to a whole new level, with individual sounds spread all around for a truly immersive presentation. The album is a fantastic accomplishment and a must-own for any audiophile or immersive music enthusiast.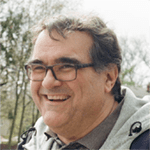 About the Author
Aaron Badgley developed a love of music at a very young age, growing up in a house with the radio or records being played all the time. He went on to a career in radio, producing many shows, as well as being the sound man for numerous concerts in the 1980s. He also had a syndicated radio show, Beatles Universe, which played throughout North America for five years. He has written for numerous publications and continues to enjoy music whenever he can.