Robert Fripp performed one of the greatest transformations in rock history with his solo debut Exposure (1979), shifting from being a progressive rock icon to redefining new wave and in some respects Punk.
In 1968, Fripp co-founded King Crimson with brothers Peter and Michael Giles. The trio had released an album one year prior under the name of Giles, Giles, and Fripp. Until 1974, King Crimson created some of the most innovative and interesting prog-rock of that generation. The band decided to take a break after the release of Red (1974), allowing Fripp to work with a number of outside artists.
One of his most well-known collaborations during that period was with ambient music icon Brian Eno. Their albums No Pussyfooting (1973) and Evening Star (1975) were bridges between prog, ambient, and experimental styles. Not only were both albums well-received critically, but they also laid the foundation for the future of alternative/new wave and art rock. Fripp also found himself working with Peter Gabriel, The Roches, and Daryl Hall (he produced and played on Hall's 1977 debut solo album Sacred Songs) during this time.
He then began recording Exposure in early 1979, and it was released later that same year. A great many musicians contributed to the album, including Eno, Hall, Gabriel, Peter Hammill, Phil Collins, Terre Roche, Tony Levin, and Barry Andrews. Fripp had originally wanted Hall to sing all the lead vocals on the album, but his label and management had other plans. This left Fripp with the idea of having a number of different singers on the album.
It was ultimately a brilliant decision. Can anyone but Gabriel sing "Here Comes The Flood?" What would "Disengage" sound like without Hammill's passionate screams? This is not a criticism of Hal by any means - he sounds fantastic on "You Burn Me Up, I'm A Cigarette" and especially "North Star" (a sort of precursor to "Matte Kudasai" on King Crimson's Discipline) - but the remaining songs were defined by other voices. That said, one can hear Hall's vocals on several of the other tracks as part of the fifth edition included in the Exposures box set.
The opening track, "Preface," is a short Zappa-esque sound collage with layered vocals. This leads to "You Burn Me Up, I'm A Cigarette" (likely a playful poke at Joni Mitchell's "You Turn Me On, I'm A Radio") featuring one of Hall's best-ever vocals. Like a cigarette, the song lasts for a short time before Fripp and company move on to the incredible "Breathless". Fripp lets loose on the longest track on the album, eventually giving way to the explosive "Disengage" with Peter Hammill's maniacal vocals. Hall later returns for his second appearance on the moving "North Star".
This is the beauty of the album. There are so many different styles and sounds, but all the songs come together to form a very cohesive statement. Give a listen to Hammill and Roche's duet, "I May Not Had Enough Of Me But I've Had Enough of You". This is pure heavy metal. Who could have imagined hearing Roche sing in this manner? In Fripp's world, all these different genres of music can be found on one album.
The album has been reissued several times, featuring various bonus tracks and alternate mixes. Fripp had remixed the album first in 1983 (the second edition) and then again in 2006 (the third edition). In 2021, Steve Wilson was tasked with creating the fourth edition remix of the album in both stereo & 5.1 surround. The Exposures box set also includes a Dolby Atmos mix of the fourth edition, plus new stereo & 5.1 mixes of the Under Heavy Manners (1980) and The League Of Gentleman (1981) mini-albums.
Exposure was made for surround sound, pure and simple. Wilson has worked with Fripp on the acclaimed King Crimson reissues for over a decade now and has a complete understanding of what makes the music special. As usual, he introduces newfound channel separation in all the right places without relying on gimmickry. From the heavy sounds of the album to the almost-ambient "Water 1" and "Water II," Wilson is able to perfectly adapt the surround experience to the tone and texture of the particular song.
Exposure is a landmark album. It is an incredible debut solo statement, one that shifted Fripp's reputation from dated progressive stylings to new wave and art rock. One can definitely hear how this album informed further projects for Fripp, whether solo or working in collaboration with later iterations of King Crimson. Hearing the album brilliantly reimagined in 5.1 surround is just the icing on the cake for a fantastic reissue.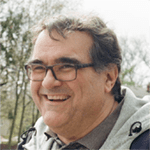 About the Author
Aaron Badgley developed a love of music at a very young age, growing up in a house with the radio or records being played all the time. He went on to a career in radio, producing many shows, as well as being the sound man for numerous concerts in the 1980s. He also had a syndicated radio show, Beatles Universe, which played throughout North America for five years. He has written for numerous publications and continues to enjoy music whenever he can.