The 1980s were not too kind to Jethro Tull. Following a string of number one albums in the 1970s, Tull entered the 1980s with a new line-up and a new sound, which included former Roxy Music and U.K. member Eddie Jobson. A was originally intended to be an Ian Anderson solo album. That changed for many reasons, and when the album hit the stores in 1980 it was credited to Jethro Tull, even though the only other member of the band on the record was Martin Barre. On A, Anderson brought in new drummer Mark Craney and bassist Dave Pegg. Eddie Jobson brings his keyboards and violins and is credited as a guest, rather than a member. Also listen for Anderson's then three year old son on "Batteries Not Included."
Jobson's influence can be felt throughout the album. Fresh from the band U.K., Jobson injects his keyboards and synthesizers. Synthesizers were not often utilized in Tull, especially in their trilogy of folk-rock albums of the late 1970s. Give "Black Sunday" a listen, and you will be forgiven for not knowing this was Jethro Tull. It is not bad; in fact it is quite brilliant, but until Anderson comes in with his vocals and wordplay, you could be listening to U.K. Then give "Uniform" a play and keep an ear for Jobson's trademark violins. But it all works. It is a nice mix of prog rock with a distinct 1980s vibe. And there is always room for the folk influence (for example, in the wonderful "The Pine Marten's Jig").
As a matter of fact, the whole album works. It sounds quite current and very vibrant. Steven Wilson deserves some credit here, as he has remixed the album and this has given it a contemporary feel. That's not to say that the original version also included in the box set sounds dated, (it doesn't) but Wilson brings out the layers so the listener can delve into the sounds and textures. Again, "Black Sunday" is an excellent example of this, but other tracks are equally interesting. "Protect And Survive" is more traditional Tull, while the incredible "And Further On" brings the original album to a close. Anderson knows how to construct a melody that tugs at your very core, with lyrics to match. Before the last faint light has gone, / wish you goodbye till further on sings Anderson with that wonderful plaintive voice, while Jobson provides a wash of synthesizers and beautiful keyboards.
Wilson never overdoes the 5.1 effects. What he so expertly does is bring the listener into the centre of the music. It truly is a surround sound experience. Wilson allows the space between tracks to exist. The end result is a fantastic listening experience. Equally fun is the 5.1 concert (captured at L.A. Sports Arena during the 1980 A tour) and the inclusion of the film Slipstream, a video of the album released on VHS at the time. Not only is the picture on DVD stunning but Wilson's 5.1 remix makes it a wonderful addition to the set. The musical introduction is worth the price of admission alone.
The unreleased material is also essential listening. The instrumental "Coruisk" is classic Jethro Tull and its release is long overdue, while the inclusion of the much longer version of the album track "Crossfire" makes one wonder why they cut the song. In longer form it is near perfect.
As with previous box sets, A (A La Mode) is a beautifully put together set. Extensive notes, photos, interviews and tons of material to enjoy. It sets the context of the album and one is able to appreciate the album on a different level. While A is not seen as 'classic Tull', it should be. It is time to put away our well worn copies of Aqualung and Heavy Horses and give A a spin. It is a rewarding experience and in 5.1 it is spectacular.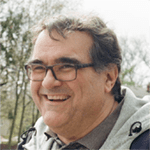 About the Author
Aaron Badgley developed a love of music at a very young age, growing up in a house with the radio or records being played all the time. He went on to a career in radio, producing many shows, as well as being the sound man for numerous concerts in the 1980s. He also had a syndicated radio show, Beatles Universe, which played throughout North America for five years. He has written for numerous publications and continues to enjoy music whenever he can.